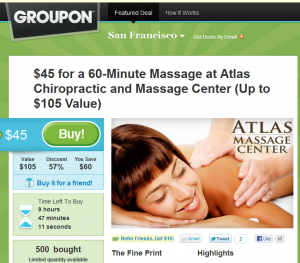 Groupon, a shopping website that offers a daily deal on the best stuff to do, see, eat, and buy in more than 300 markets and 35 countries, has selected the Vertica Analytics Platform from Vertica Systems, a leading provider of real-time analytics platforms, as their platform of choice for analyzing subscriber behavior and scaling their business intelligence capabilities to meet the demands created by the company's rapid growth and success.
Following a long evaluation process, Groupon selected Vertica Analytics because Vertica succeeded in meeting Groupon's requirements for parallel data loading, query performance and simplicity, as well as its ability to deploy on Amazon EC2.  Groupon will now have the ability to associate revenue and other metrics to individual users and analyze any relationship found among its extensive amount of data.
Vertica provides real-time business intelligence to companies by giving users the ability to manage massive amounts of data faster and more reliably than any other analytics platform. With Vertica Analytics users can get up and running quickly with fewer operating resources than traditional solutions.  Fast parallel loading, automated database design, and familiar interfaces means users are productive in minutes instead of days, and an architecture optimized for industry-standard hardware, virtual machines (private cloud), or on the cloud delivers the flexibility and elasticity to deploy analytics where, and when, needed.
Dr. Mark Johnson, Groupon's Chief Data Officer, commented following the news:
"As Groupon continues its rapid expansion into new markets, we see advanced analytics as a key component to achieving our subscription, revenue, and customer satisfaction targets…Vertica provides an ideal platform for analyzing the massive amounts of usage data generated by our subscribers, giving us insight into the effectiveness of different campaigns and marketing promotions.  We're looking to the Vertica Analytics Platform as the cornerstone of an analytics strategy that will help us move to the next level."
Christopher Lynch, President and CEO of Vertica Systems also commented:
"Groupon is the fastest growing company in history, and the Vertica Analytics Platform was built with companies like Groupon in mind …. With Vertica, Groupon has the power for real-time analysis of their subscriber-generated data now and a platform built to scale as they continue their meteoric growth.  We're looking forward to working with Groupon to develop their analytics capabilities in a way that enhances the experience for their users and helps them make mission-critical decisions based on real data, not hunches."
About Groupon
Groupon, launched in November 2008 in Chicago, features a daily deal on the best stuff to do, eat, see and buy in more than 500 markets around the world. Groupon uses collective buying power to offer unbeatable prices and provide a win-win for businesses and consumers, delivering more than 650 daily deals globally. For more information, visit http://www.groupon.com. To contact Groupon to be featured as a daily deal, visit http://www.grouponworks.com.
About Vertica
Vertica Systems is the leading provider of next-generation analytics platforms enabling companies to monetize their data at the speed and scale necessary to deliver significant value to customers and shareholders.  Vertica's scalability and flexibility are unmatched in the industry delivering 50x-1000x faster performance at 30% the cost of traditional solutions.  Vertica is used by more than 300 customers across a variety of industries worldwide including Twitter, Verizon, AOL, Guess!, Zynga, Playdom, Bank of America, BlueCross BlueShield, AdMeld, Sunoco, Mozilla and Comcast.  Vertica's North American headquarters is located in Billerica, MA.
Vertica is a registered trademark of Vertica in the United States and other countries. Other product or service names mentioned herein are the trademarks of their respective owners.