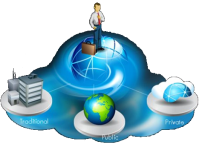 In an effort to join the cloud computing race, HP which has lagged behind Dell and IBM in its cloud computing efforts, launched this week Enterprise Cloud Services—Compute and HP CloudSystem.
HP Enterprise Cloud Services—Compute, offers enterprises the ability to run key applications and securely access them over a network—without investing in unnecessary assets or processes.
Client benefits include:
Maximize IT investments by reducing capital outlay and paying only for the services you use
Respond faster to changing business conditions with fast provisioning and flexible resources
Mitigate risk with our security policies and procedures, best-in-class practices and proven processes
HP CloudSystem offers a complete integrated system that enables enterprises and service providers to build and manage cloud services across private, public and hosted models. HP CloudSystem integrates and automates system management, servers, storage, networking, and security to address the challenges you face today: the need to speed innovation, accelerate business processes, and reduce time to revenue.
Client benefits include:
Increased scalability to meet demanding enterprise and service provider requirements.
Rapid delivery of high quality services by automating application to infrastructure provisioning, compliance and system level performance monitoring.
Improved application performance, efficiency and availability by delivering applications in minutes versus months for greater agility.
Enhanced compliance and reduced risk with investment protection by transforming legacy and virtualized infrastructures into automated cloud environments.
Simplified management with one solution that addresses hybrid cloud requirements.
The overarching theme is to enable organizations to increase their flexibility, visibility and transparent access to a wider range of computing capabilities — enabling them to free up resources and support other business objectives.
HP's short overview brochure about Enterprise Cloud Services—Compute can be found here.