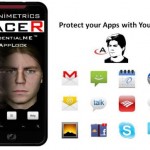 Animetrics, the developer of cloud-based web service facial biometrics, announced on February 11, 2011 the release of two new application offerings, the FaceR CredentialME™ AppLock for iPhones and  FaceR CredentialME AppLock for Androids. Both application offerings are based on Animetrics patented 2D-3D FACEngine® facial recognition technology, a precise technology similar to the technology used by the US Department of Defense.
These cloud-based services enable smartphone users to use Facial recognition to access any application residing on the smartphone. The user can now enable mobile platform application via facial recognition through his smartphone camera, this application Lock adds a layer of security to the username password traditionally needed to access these applications.
The FaceR CredentialME uses cloud-based web service facial search and retrieval applications.
The main difference between the two application Lock services is that FaceR CredentialME™ AppLock for iPhones does not control securing individual applications on the device. As the sales of smartphones increase, and more personal data, and company private information will be accessed from mobile smartphones, these offerings come in time for additional security.
According to Paul Schuepp, President and CEO of Animetrics, "We're carrying in our pocket now full functioning powerful computing and communications devices with integrated applications that run our businesses, our social networks, our life.  It has become most important to protect our applications so that only I can use my private and personal apps.  FaceR CredentialME provides the powerful security of an easy to use biometric.  Your face is your credential and only your credential.  Enterprises and consumers can use this powerful tool to secure their mobile systems via a wireless connection to a cloud-based security solution."
About Animetrics Inc.
Headquartered in Conway, N.H., Animetrics is a leading developer of cloud-based web service facial search and retrieval applications. The Animetrics90 and Animetrics180 product family is the first come-to-market 2D-3D enabled full 90 degree and 180 degree facial search engine. Based on four patents, the 2D-3D FACEngine™ technology allows for pose and lighting invariant facial search across a broad range of operating conditions. Animetrics is driving market acceptance of facial recognition biometrics in government, defense, homeland security, law enforcement, and now with its recent consumer release of its FaceR™ line, mobile platforms.
For more information visit http://www.animetrics.com.   Email: sales@animetrics.com