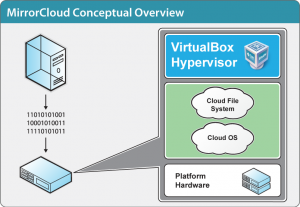 Zenith Infotech introduced today MirrorCloud, a new lightweight backup and disaster recovery software application for the mid size business market.
Using a data cloning process, MirrorCloud takes zero-copy data snapshots of any physical and virtual Windows server or desktop, dramatically increasing Recovery Point Objectives (RPOs). Within minutes MirrorCloud can reproduce a virtual image of any failed server or desktop, avoiding downtime should disaster strike.
Zenith Infotech is a technology innovation company specializing in cloud, business-continuity and virtual help-desk solutions. MirrorCloud is the latest add-on to Zenith's pioneering SmartStyle Computing line of cloud solutions.
"MirrorCloud is a key development in what we call our Cloud Revolution," said Ryan Morse, director of product management for Zenith Infotech.  "Its Business Continuity features have catapulted SmartStyle Computing beyond the small business environment, facilitating an exceedingly reliable cloud-based infrastructure. The technical prowess of this application singles out the Zenith brand in the backup space.  It will compel the cloud computing trend forward, removing one of the cloud's perceived barriers-to-market."
About Zenith Infotech
Zenith Infotech Ltd is a technology innovation company and a leading provider of Managed Service Back Office, Business Continuity and Help Desk Solutions. The company's award-winning solutions enable its channel partners to scale their business without increasing their overhead. The SmartStyle Cloud Computing family of products is the latest addition to Zenith's offerings. MirrorCloud, a software add-on to the SmartStyle Platform, represents the next generation of back-up and disaster recovery solutions. Zenith Infotech Ltd. has US headquarters in Pittsburgh, Penn. and world-wide headquarters in Mumbai, India. Its stock is traded on the Bombay Stock exchange.
SOURCE Zenith Infotech