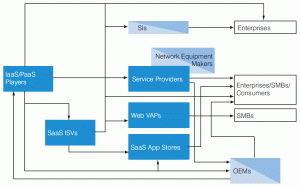 As cloud adoption grows, the traditional technology ecosystem is facing disruption—but few players in the ecosystem are fully prepared. The disruption will increase opportunities for many players, including web and cloud masters like Amazon.com and Google, as well as telecom operators and other service providers.
As companies turn increasingly to the cloud for their IT needs, 80 percent of the companies in the Fortune 1000 are expected to be using some kind of cloud computing services as early as next year, and 20 percent of those companies may not own any hardware assets at all.
Looking ahead, we believe the technology ecosystem—the industry's entire value chain, including software vendors, hardware original equipment manufacturers (OEMs), service providers, distributors, resellers, and retailers—will operate very differently from the way it has in the past. How the ecosystem grows and evolves will depend on a variety of factors that will affect every player.


The technology ecosystem has long depended on a series of tight relationships among a number of fundamental groups along the value chain: independent software vendors (ISVs); OEMs; systems integrators (SIs), distributors, large-account resellers (LARs), and value-added resellers (VARs); and retailers. The traditional ISVs develop and customize software for large enterprises, small and midsized businesses, and consumers. Further downstream are the various distributors, which sell or resell, integrate, and customize software and hardware for the ecosystem.
Cloud computing is changing all that. The cloud holds out the promise of eliminating much of the complexity inherent in the current physical-world ecosystem.
This vision has yet to be fully realized. The adoption of cloud computing by enterprises is still mostly limited to e-mail and collaboration tools such as Google Apps, selected sales and marketing applications such as Salesforce.com, and some cloud-based provisioning of core computing via services such as Amazon Web Services.
To date, the primary driver of cloud services remains its advantages in delivering real-time or near real-time pricing flexibility and scalability. But more options are arriving all the time, ranging from increasingly sophisticated and specialized software-as-a-service (SaaS) applications to more complex infrastructure-as-a-service (IaaS) and platform-as-a-service (PaaS) offerings, all of which present advantages in both cost and productivity.


Further complicating adoption, the cloud operates in two distinct modes—public and private—which can also be blended together into hybrid approaches. Public clouds, such as those offered by Amazon and Microsoft, can reach enormous scale, providing large cost advantages, though security and service quality issues have far impeded adoption. On the other hand, private clouds allows tight control over service quality and alleviates most security concerns. Hybrid clouds, which combine the two and are therefore getting more and more attention, enable customers to reserve sensitive tasks for the private clouds while delegating others to public clouds. Together, these players will drive the transition to the new cloud-based ecosystem.
How the transition to a cloud-centric ecosystem occurs, and how quickly, will depend on a multitude of factors. Four factors will influence how quickly the cloud is adopted and in large part the shape of the cloud-based ecosystem over the next several years.
The level of customization and integration required to provide enterprises with the cloud-based software they need
The extent to which security, privacy, and auditability issues are resolved in public clouds, and across different verticals
The degree to which consumers—as employees—succeed in actively shaping demand for business applications and related tools and devices
The extent to which new aggrega­tion opportunities open up at the application (SaaS) and platform (PaaS) levels, and the speed with which players move to capture these new opportunities—becom­ing, in effect, the new distributors for the cloud-based technology ecosystem
Whether public, private, or hybrid clouds come to dominate the space, what the role of the con­sumer in cloud markets will be, and how the fortunes of each player in the current and future ecosystems will play out—all will depend on the pace at which these trends emerge.
We see three overarching changes occurring as the partner ecosystem evolves to a cloud-based world. First, the role of traditional IT delivery players will very likely decline. Second, the value of customization and integration will likely decline, especially in the SMB market. Finally, certain delivery and selling assets will likely increase in value.
A wide set of players both old and new will occupy this new ecosystem. Players from all sides are converging on the cloud opportunity.
Web and Cloud Masters – End-to-end IaaS through SaaS players with huge data centers
Virtualization and Automation Software Specialists – PaaS-focused players partnering broadly, seeking to set standards
Enterprise Software Specialists – Similar to cloud masters, but focused on enterprise suites
Pure-Play ISVs – Broad swath of SaaS ISVs vying for pieces of cloud market
Integrated Giants – SIs and outsourcing powerhouses with asset-heavy offers across IaaS, PaaS, and SaaS
Asset-Light Integrators – Already strong in outsourcing; partnering for IaaS; making asset-light bets
Service Providers – Role evolving, with many going asset-heavy and exploiting reach and cloud-relevant assets
Equipment Makers – Computing, PC, and handset/device OEMs seeking to exploit device proliferation; network equipment players looking to enable NaaS services and play selectively in PaaS
Web VAPs – Fragmented, but could leverage strength in Web services into cloud
Aggregators – Potential new class of SaaS and PaaS players, including SaaS app stores
The new ecosystem offers plenty of opportunities to create new sources of value, and many different types of players are converging on the cloud in hopes of doing so.  Players must create their own visions of how the space will evolve and how they can shape the outcomes to their advantage. They must quickly develop strategies within the next six to 12 months in order to stake out their territory in the new ecosystem before it is fully occupied and to avoid the risks of making poor investments that cannot be undone. If they can adapt intelligently, they stand a better chance of shaping the future state of the cloud rather than getting lost in the fog.
This article is an excerpt from "Seeing Through the Clouds – Navigating the Evolving Technology Ecosystem" by Booz & Company. Booz & Company is a leading global management consulting firm, helping the world's top businesses, governments, and organizations. Visit booz.com to learn more about Booz & Company.
Related Research from the CloudTimes Research Library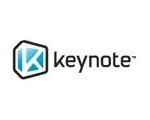 EMA: Monitoring Performance in Private Cloud Ecosystems
Cloud computing has vastly accelerated the process of reshaping IT's role more as a broker of services, with a wide range of choices on how services are created and provisioned. The combination of options across public, private and community Cloud, as well as hybrid non-Cloud environments, are increasingly revitalizing larger IT/business ecosystems. Hear EMA's perspective on how Keynote Systems addresses the performance monitoring challenges of this new IT management reality.