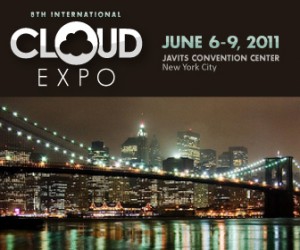 Cloud Expo is the only Enterprise IT Event in 2011 covering the Entire Scope of the Cloud Computing Spectrum.
Globally, cloud computing is on course to become $120BN market. The surest way to get yourself and your company fully "Cloud-ready" is by attending Cloud Expo New York – being held June 6 – 9, 2011, at the Jacob K. Javits Convention Center In New York City.
Cloud Expo New York offers a vast selection of technical and strategic Breakout Sessions, General Sessions, Industry Keynotes, our signature discussion "Power Panels" and a bustling 4-day Expo floor complete with a busy Demo Theater so that delegates can you can kick the tires of solutions and offerings.
Join your Cloud peers in June at 8th International Cloud Expo in New York, co-located with the 11th Virtualization Conference & Expo. It is the largest Cloud Computing event in the world!
http://cloudcomputingexpo.com/
Themes & Topics to Be Discussed in 200+ Technical Sessions
SaaS, PaaS, and IaaS

Storage as a Service

Cloud Standards

Green IT

Application Portability

Automation

High-Performance Computing

Cloudsourcing

Grid Software

Cloud-Delivered Testing

Performance Monitoring for Cloud Applications

Vendor Lock-in vs. Open Cloud

Web-scale Computing

In-Cloud Data Encryption

Cloud-Delivered Security

Cloud Reliability

Cloud Serviceability & Architecture

Elastic Computing

Secure Cloud Computing

Cloud Management

Cloud Databases

Private vs. Public Cloud

Cloud Computing & SOA Scalability

Hadoop as a Service (HaaS)

Internal Clouds

Cloud Analytics

Cloud Computing & SMBs

Cloud Applications

Enterprise Cloud Orchestration

Fabric Computing

Eclipse & Cloud Computing

HPC in the Cloud

Cloudbursting

Multi-Cloud World

Cloud Computing Interoperability

Cloud Internetworking

Virtual Private Inter-Cloud

Java Enterprise Clouds