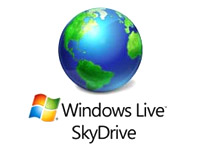 Yesterday Microsoft promoted on its blog SkyDrive which is a free cloud service that gives users access up to 25GB storage of documents, photos, and videos through the web. This news comes just after Apple introduced "iCloud" this week at the WWDC in San Francisco. iCloud is a new cloud backup, sync and storage service that will be available with the release of the next version of the Apple mobile operating system iOS 5.
Microsoft's blog post states that SkyDrive will be more integrated into the Windows phone system with the next software update version code named "Mango". Users will be able to share photos via email, text sms and instant messaging using Windows' Live Messenger or Facebook. In addition to photos, users will be able to upload videos, share documents (Excel, Word, PowerPoint).
Micorsoft's SkyDrive seems to be missing API access (Application Programming Interface) which iCloud provides. iCloud's API allows developers to sync and store their own application's documents or data.
Beside the API access, if you compare SkyDrive with iCloud you wouldn't find much difference except for the disparity in execution style. By far Apple seems to be the winner in this situation.