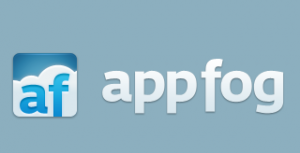 AppFog, announced today it has been named PHP Community Lead for VMware's Cloud Foundry the industry's first Open PaaS. AppFog is a cloud-based PaaS that makes it easy to deploy and scale web based applications. AppFog will be in charge of contributing and maintaining PHP support for CloudFoundry.org, and Cloud Foundry will be used within AppFog's core technology. AppFog will be compatible with the same tools that are running on CloudFoundry.com, and will take advantage of technologies like Varnish caching and PHP.
Interested developers can now sign up here for the private beta of this new service.
Lucas Carlson, CEO of AppFog said "We look forward to collaborating with VMware and believe our customers will benefit from the open source community of Cloud Foundry. The community approach provides the best benefit to our customers without sacrificing quality, and our release of PHP support into the Cloud Foundry source code is the first of these benefits."
Jerry Chen, VP Application Platform Product Management & Marketing at VMware said "AppFog's expertise in PHP, active community and service experience make them the obvious choice to collaborate with VMware and help build the Cloud Foundry PHP community. Multi-framework PaaS is extremely difficult to pull off well without the support of the Open Source community and domain experts like AppFog. We hope the AppFog service built on Cloud Foundry will be a popular offering for developers."
The AppFog platform includes infrastructure that automates scalability and makes deployment and management of applications easy, enabling application developers to rapidly create and seamlessly scale PHP-based applications. The AppFog service supports 20,000 application developers who have collectively created and deployed approximately 10,000 applications using its platform. The company has closely collaborated with thousands of developers to understand their unique pain points and build an infrastructure that automates scalability and makes the deployment and management of applications easy.
About AppFog
AppFog, Inc. is the leading platform-as-a-service provider of PHP solutions. They deliver a reliable, scalable and fast platform for deploying PHP applications in the cloud. AppFog is a private company headquartered in Portland, Oregon. To learn more, visit http://www.appfog.com.