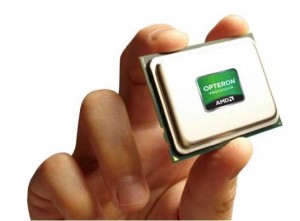 Dell has recently launched its new service feature for their Dell PowerEdge, the new AMD Opteron 6200 Series processors. The new enhancement features will perform with better energy performance and efficiency that can be used for the private cloud, enterprise applications, Web and virtualization requirements.
The new AMD Opteron 6200 Series processors are now available for R815 rack servers, PowerEdge R715, ultra-dense PowerEdge C6145 and the PowerEdge M915 blade server.
The new AMD processor can perform significantly by as much as 24 to 84% with its 16 cores for each processor; it can also be used to run applications with more efficiency. The Dell PowerEdge M915 is able to provide support for four AMD Opteron 6282SE processors. And for users who are after a large data storage space, Dell PowerEdge R815 can provide that with its four processors located in 2U chasis, which is better than the competitor's HPDL585 and HP DL580 in 4U device.
Vice President and Server Platform Marketing for Dell, Sally Stevens said, "Highly virtualized environments and scale-out workloads like cloud and Big Data are changing the dynamics of the data center. From economical 2-socket platforms to high-performance 4-socket blades and ultra-dense servers, Dell PowerEdge systems are tuned to deliver outstanding performance and scalability. Our customers want to be able to do more work in less space, and we're giving them that capability with a complete AMD-based server portfolio that allows them to effectively manage high volumes of system traffic while reducing workload costs."
The Dell PowerEdge C6145was developed to generate higher performance for less space, to be more scalable using cloud virtualization platform that uses few overhead, to deliver stronger and higher performance efficiency and to be more cost-effective for any business IT solutions.  The service feature of PowerEdge C6145 now includes 128 AMD 6200 Series processor cores using shared infrastructure in 2U. This increases the server's performance and streamlines the effective feature set for power drain. Example of this effective feature can be seen from the National Center for Supercomputing Applications' (NCSA) use for huge and massive applications, but with fewer IT costs.
Project Manager of NCSA's Private Sector Program, Evan Burness said, "NCSA iForge is a unique supercomputer that enables our private sector partners to solve the most complex real-world problems involved in the engineering, design and manufacturing of products in almost every commercial industry."

He added, "Regular upgrades to the latest technologies help ensure that we continue to provide a distinct competitive advantage to our partners. Across a number of benchmarks, NCSA's early testing of the Dell PowerEdge C6145 with AMD Opteron 6200 series processors shows substantially better performance per dollar when compared to the Intel Xeon L7555 processor. Dell and AMD technology gives NCSA iForge the ability to do more with less, and that's a tremendous value for us."