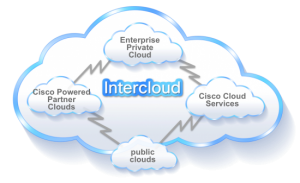 The initiative of Cisco Intercloud, a worldwide network consisting of interconnected clouds that the corporation is building along with its partners, has grown now. The networking giant announced significant developments in the Intercloud initiative, which aims to connect the hybrid cloud to being part of a large available and accessible network from anywhere.
During this year's Cisco Live! and media level, the Intercloud initiative has been overtaken undoubtedly the concept of Internet of Everything. However, for the manufacturer it is a vital part of the technology that will develop the connection of all things, data collection, and processing.
Cisco also announced the addition of 35 new members to accelerate the creation of innovative cloud-based services through three fundamental areas -Platforms development of next-generation analytics and big data and cloud services for the Internet of Everything. The company has also optimized its Cisco Intercloud Fabric solution with new security features, support management in clouds and additional hypervisor. These innovations further eliminate the complexity of hybrid cloud providing flexible movement of workloads and maintaining security policies and network environments through public and private cloud.
Cloud services for the Internet of Things
Cisco and its partners offer organizations' cloud services and next-generation applications through the Cisco Intercloud Marketplace, a global market focused on partners that Cisco plans to open this fall. Developers are going to rely on the Cloud for development environments/test to create and distribute applications in production. Cisco announced its collaboration with various companies developing and delivering business applications such as Apprenda, Active State and Docker for innovative development environments.
Cisco is also expanding its participation in major open source development communities such as Cloud Foundry, OpenShift, and kubernetes, and is now building an integrated suite to help developers design micro-container based services tools.
Organizations are demanding new ways to manage the exponential growth of data and the ability to obtain real-time analysis. To meet this need, Cisco collaborates with leading Big Data solutions such as MapR, Hortonworks, Cloudera and Apache Hadoop community. Working with these partners, Cisco safely extends Hadoop solutions on-premise to the cloud and provide a true hybrid deployment. It is also providing end customers to maintain the same policies, control and security in their Big Data implementations, as well as greater flexibility and an unlimited virtual scalability.
In addition to developing platforms and powerful features of Big Data and analytics necessary to the IEA, Cisco started providing APIs to the development community to ensure functionality control, performance and security from the data center to the device.
As part of this framework, Cisco will expose APIs for application developers to allow network monitoring, performance and security to be delivered from the data center to the device. It will also be offering vital services such as data virtualization, Energywise, and Cisco Exchange Platform Services through Intercloud.
Cisco says that by 2020 there will be over 50 billion devices connected to the Internet. Cisco is working on a number of fronts to turn IoT's many, many possibilities into reality. Cisco's strategy to invest in solutions of hybrid data centers, including Intercloud and fog computing to create an optimized IoT infrastructure.