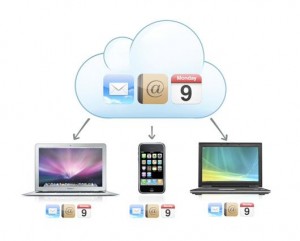 "The cloud" has revolutionized from being a substance-free buzzword, into a buzzword that brings significance to businesses. Companies such as Google, Amazon and Salesforce led the way for this transformation during the past years. Cloud services at home, in the workplace and in enterprises has increased significantly. With this, mobile platforms are going to be heavily impacted by the cloud technology as well. The cloud will eventually become a dominant force in which mobile applications operate.
Mobile cloud computing is beginning to evolve this year. Smartphones and 3G-enabled tablets, with its always-connected nature make them perfect match for cloud services and cloud computing. However, even halfway through 2011, people have not encountered cloud services and cloud computing that integrates well into the mobile ecosystem. Mobile platforms development provides insight into the mobile cloud of the future.
Mobile Platforms as Data Silos
The Chromebook, the first personal computer running Google Chrome OS, was officially introduced by Google last May.  Chromebook run Google's ChromeOS, which relies on the cloud, even if not exclusively. Data which are stored in the cloud can be locally accessed. Programs, files and media are all accomplished through the web browser.
Current mobile and desktop operating systems might have a few cloud-synching capabilities for contacts, email and bookmarks. However,  these platforms will still store user data, application preferences and other information into local devices itself. Chrome OS works differently in comparison.
One distinct characteristic of Chrome OS is that all data are stored and executed in the cloud. All users have to do is to log in to access their machines and accounts from different devices.
The cloud abilities of Google's Android operating system boast of user's instant access to inboxes. Gmail contacts and Picasa photo albums can be accessed simply by adding an account to another Android device. However, locally stored files and protected items, like Wi-Fi passwords, and third-party application settings are still inaccessible.
Cloud Services of Third-Party Apps
Many third-party apps are increasingly taking advantage of cloud services. Appcelerator, a cross-platform development company emphasized a trend in its Q2 mobile developer survey.
The survey indicates that "84% of respondents said that they are using at least one cloud-enabled or cloud-based service in their applications today."
This trend reveals that a lot of third-party app developers are working at integrating with cloud services and using cloud backends to process and serve content faster. Most of these activities are based on integrating with the social cloud for Facebook or Twitter.  Still, cloud-based commerce platforms and adding support for enterprise cloud backends are also increasing.
Content within the app is also sourced from a data connection or API.  Cloud platform services from Amazon or Microsoft are being used by 44% of the respondents in deploying parts of their apps. This mobile application development makes it easier for developers to bring the same content and services to multiple platforms. Through this, users can access their data on other devices much easier.
There are also a number of applications that are created to integrate directly with cloud-based services. This trend is increasing particularly in the iOS App Store. For instance, there is one note-taking apps specifically dedicated for Dropbox. This connectivity allows accessing an app on an iPhone or iPad which displays the same data and can also be accesses from the web and desktop.
Virtualization giant VMWare is working on creating virtualized instances to run from the cloud. It allows users to access their desktop, file documents and other data from an iPhone, Android and iPad.
Future of Cloud Integration
The mobile cloud computing market is just starting to evolve. Mobile platform developers and app makers will invest heavily in mobile and cloud computing. Leading this development is Amazon. The company has rolled out its cloud platform to thousands of developers, integrating the platform into Kindle, Amazon Instant Video and Amazon MP3 products.
Aside from building mobile-friendly cloud services, news are also surfacing that Google and Apple are making proactive and cloud-centric approach to future versions of Android and iOS.
The future of Microsoft's Windows Phone Mango platform is also making use and betting big on cloud integration. It seamlessly integrates with multiple networks and services for accessing documents, email and media, and building more hooks for the cloud into its developer SDK.
Mobile cloud computing has a long way to go and could take more time to develop, but it is making way and taking off into the future.