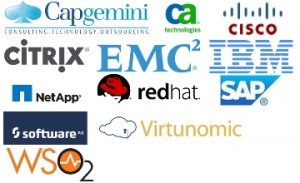 Cisco, EMC, IBM and TOSCA recently communicated their support to back up setting the standard and specifications for hybrid cloud portability. This is to stand true to cloud's promise of ease of access and portability in service migration from one cloud provider to another. There are, however, obstacles to face with this set up because every cloud provider has its own standard and specifications on cloud requirement, governance, security and compliance. Not to mention its infrastructure set up that includes cloud database, servers, data storage and network requirements.
To make cloud alluring to customers several technology giants grouped together to make the cloud service more portable. The cloud giants include Red Hat, Cisco, EMC, IBM, SAP and CA. They have drafted the first document on the open interoperability specification, which they named TOSCA (Topology and Orchestration Specification for Cloud Applications). Several contributors to the draft include NetApp, Software AG, Capgemini, WSO2, Virtunomic, PwC and Citrix.
TOSCA hopes to create a sort of template for interoperable descriptions on the relationship between service parts, service applications and infrastructure and the operational behavior of each service in relation to the other service applications. The TOSCA standard intends to assure the consumers of service interoperability, regardless of provider, supplier and host.
CTO of Cloud Standards at IBM, Chris Ferris described TOSCA as an upgrade to the cloud stack as a follow up to the CDMI and OVF standards.
Ferris said, "A number of initiatives are ongoing to help cloud standards. This is another standard along that progression, but it goes beyond just infrastructure. We're getting into provisioning of more comprehensive services."
A benefit of the TOSCA standard will be to enable organizations to embrace hybrid clouds, according to Ferris. It is notable that the giants Microsoft and Amazon are not on the list of contributors.
Ferris said, "They were invited. We welcome any other companies to come. We feel that we have a fairly good constituency involved."
It can also be remembered that both Microsoft and Amazon did not back up IBM's Cloud Manifesto in 2009; a document that was drafted to support cloud interoperability. Microsoft even mentioned it to be "flawed" for it was done in secret.
Companies and individual users who would like to view the content of the TOSCA document can see it from the Oasis Website, where a committee is continuously developing the specifications of the template and the standard processes.