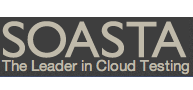 Performance testing company SOASTA is extending its cloud testing platform to mobile devices.
On Monday, the Mountain View. Calif.-based company plans to update its CloudTest Platform to enable automated mobile application testing and analysis. TouchTest – a testing tool that captures all user actions and gestures such as tap, type, swipe, two finger, pinch, pan — whatever real people do, in the real world, on real devices.
For the first time ever mobile app usage has eclipsed mobile web browsing.  And while users now spend 94 minutes a day on their apps, 75% of all web and mobile apps go live without ever being on a wide scale.  That means most apps have not had thousands of people try them out.  So the next time you have a problem with your smart phone app, it may not be your phone.  It may be the app itself that's the problem.
By using the cloud, TouchTest makes it possible to simulate app use for thousands of people, testing:
Finger gestures on touchscreen devices
How quickly or slowly a user swipes or scrolls
How apps work with two or three-finger typing
Changes in location
Network bandwidth
Ultimately, TouchTest will empower testers of mobile applications for iOS and Android to identify and fix problems earlier for the best user experience.  CloudTest will empower companies to build their own Private Device Cloud for testing on real devices across real networks – eliminating the need for tethering, jail breaking devices, or contracting with expensive external services.
SOASTA is led by serial entrepreneur Tom Lounibos.