by Barry Murphy, Co-founder, eDJ Group
Few topics are as hyped right now as The Cloud and social media.  Both promise great benefits to companies; The Cloud can drastically reduce the costs of storing information and implementing software applications while social media enables more efficient collaboration and lets companies increase marketing and brand reach more quickly than ever before.
Just because The Cloud and Social Media are hot topics and seem to gaining traction, however, does not necessarily mean that they have gained mainstream usage in corporations.  The topics have taken the Information Governance (IG) and eDiscovery markets by storm, though, because these new sources and forms of information present new and unique management, collection, preservation, analysis, review, and production challenges. Official usage of The Cloud and social media is evolving slowly, according to eDJ Group Research. Throughout November and December of 2011, eDJ Group conducted a survey on eDiscovery and The Cloud. Only 26.2% of our respondents reported having adopted cloud-based storage of enterprise information, while another 18% did not know.  Over half of the respondents have not yet adopted cloud-based storage.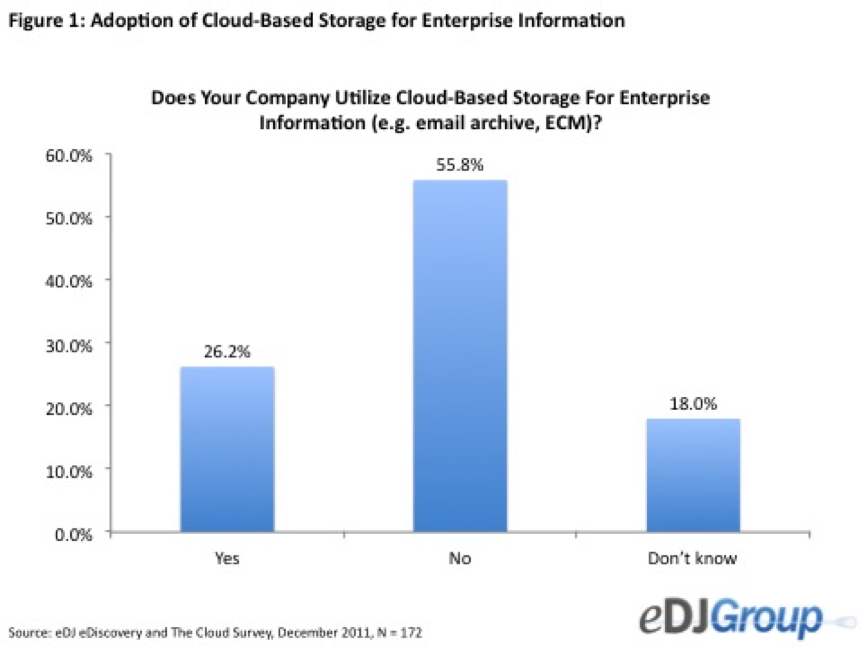 This does not mean that cloud-based storage for information will not become dominant; it simply means that, pragmatically, companies have to prioritize eDiscovery and IG efforts around the information sources currently in use.  If moving to The Cloud over time, eDiscovery should be part of the strategic plan.  In the meantime, initiatives must be focused on where the information lives right now.
In addition, while the use of Software-as-a-Service (SaaS) for applications like CRM (e.g. Salesforce.com) and bookkeeping (e.g. Quicken) feels pervasive, half of the respondents indicate that they are not using SaaS tools for these kinds of applications.  Just over 25% of respondents indicated that they are using SaaS applications for enterprise processes.  As such, these sources of information must be part of the eDiscovery plan.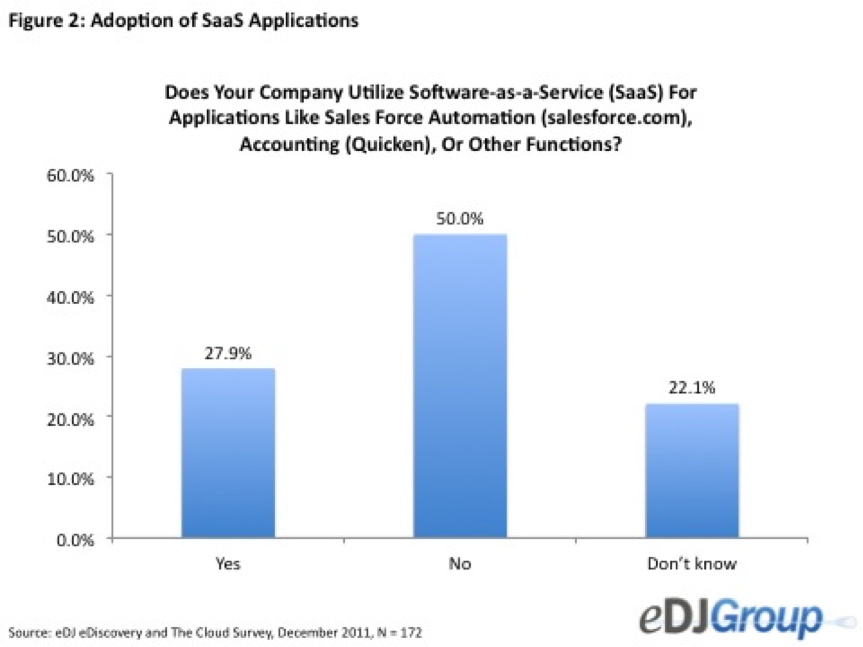 Social Media Presents A Different Set of Challenges
Whereas adoption of cloud-based information storage is evolving more slowly than one might think, the use of social media is pervasive.  According to MediaBistro.com, "Facebook recently announced they had passed 800 million active users. Twitter has at least 200 million registered profiles. LinkedIn has 64 million users in North America alone. And still wet-behind-the-ears Google+ picked up 10 million users."
Whether produced by individuals or companies, social media is potentially discoverable. Precedent-setting cases such as "IN RE NTL, INC. SECURITIES LITIGATION; GORDON PARTNERS, et al., Plaintiffs, -against- GEORGE S. BLUMENTHAL, et al., Defendants" say that if a company has "access to documents to conduct business, it has possession, custody or control of documents for the purposes of discovery." As a result, much has been made recently about how to best collect and preserve social media content for IG and eDiscovery.
In reality, the practice is extremely immature.  Across the board, 15% or less of eDJ's survey respondents indicated having had to collect from a popular social media service.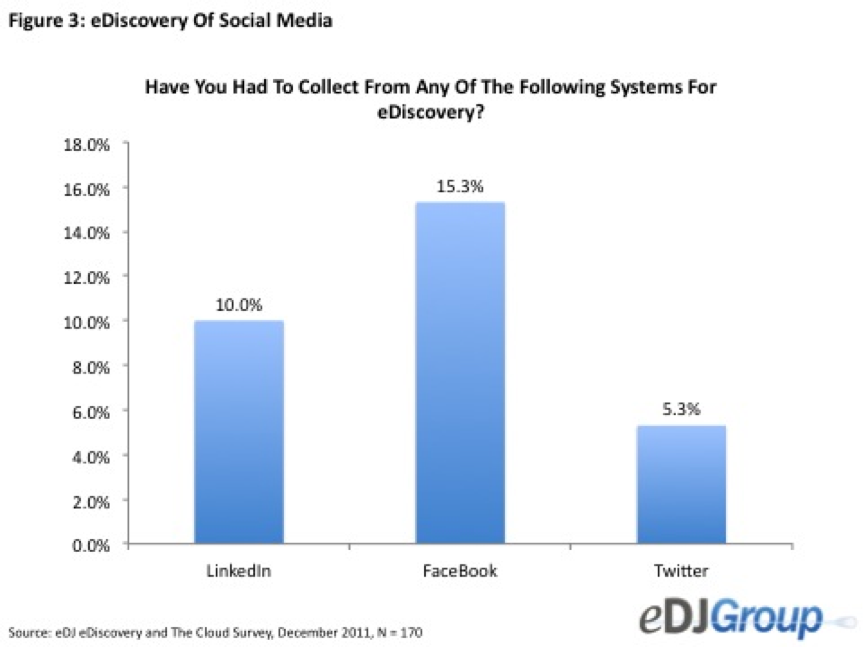 The challenge for companies is that the accessibility of information stored in The Cloud and Social Media does not necessarily make it easily discoverable.  First, as with all other Electronically Stored Information (ESI), data in The Cloud and Social Media must be searchable and reviewable alongside other collected data.  That means companies must be able to process information from these sources defensibly.  Given the different sources and the diversity of metadata involved, eDiscovery could get very complex.
Most Organization Not Ready for Cloud and Social Media eDiscovery
A decade ago, the eDiscovery focus was around a challenging data source known as email.  Companies adopted email so quickly that eDiscovery was never correctly planned for; discovery capabilities were built in after the fact.  Many painful lessons were learned, and yet the possibility of repeating those mistakes is very real when it comes to information in The Cloud and Social Media.  For the eDJ survey respondents, eDiscovery is very much an afterthought as companies evolve into using these data sources more and more.  Less than 16% of respondents put an eDiscovery plan into place before moving data to The Cloud.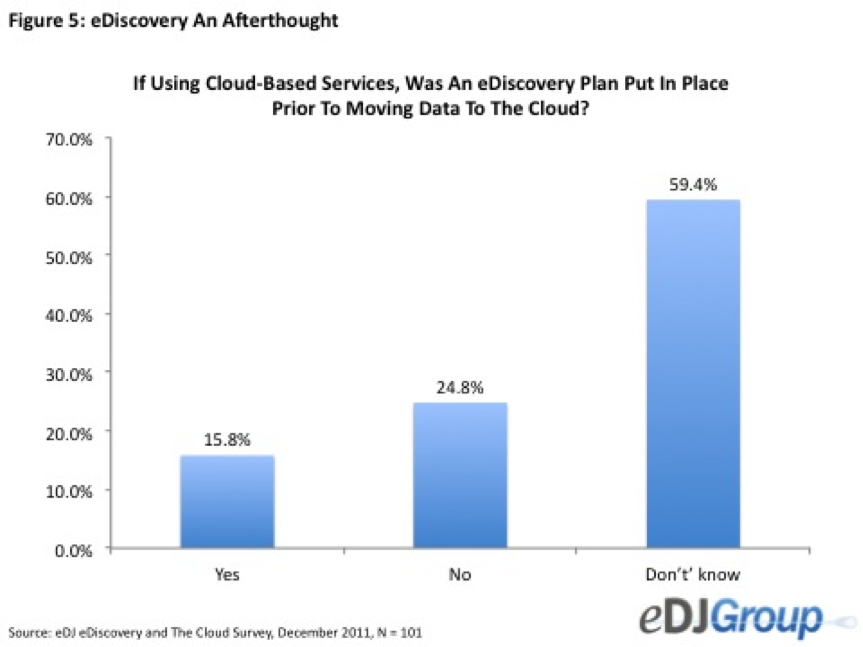 The maturity level is rising, though.  At present, 22.8% of respondents have put an eDiscovery plan in place while another 19.8% are working on a plan currently.  One must hope that companies have learned from the past and can avoid the mistakes of the past. The saying goes that those that don't learn from history repeat it.  Companies that don't want the eDiscovery nightmares of the last decade, with time wasted and dollars spent corralling information from distributed and hard to access information sources, should ensure the same fate does not wait in the cloud.  Turning a blind eye to the issue – as many companies are doing now – does not make it go away. Legal teams continue to get smarter regarding conducting discovery; it is a good bet that lawyers will target cloud-based sources of information in the hopes of catching the opponent off guard and unprepared.  Companies should prepare for eDiscovery of cloud-based content and social media now.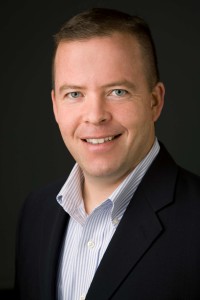 About Barry Murphy
Barry Murphy is a Co-Founder of eDJ Group, Inc. and a thought leader in information governance, eDiscovery, records management, and content archiving.  Previously, Barry was Director of Product Marketing at Mimosa Systems, a leading content archiving and eDiscovery software.  He joined Mimosa after a highly successful stint as Principal Analyst for eDiscovery, records management, and content archiving at Forrester Research.
Barry's past experience includes covering content management, business process management, and Web services technology as an analyst with The Delphi Group.  Prior to Delphi, Barry was a management consultant at the boutique eBusiness strategy consulting firm eMaven. In this role, he was responsible for both creating technology strategies and for managing projects to execute those strategies. Barry began his career in advertising with the DDB Needham agency.
Barry has spoken at numerous industry events, including the Forrester IT Forum, AIIM Conference & Expo, the ARMA conference, and LegalTech.  At these events, he has delivered keynotes and provided industry expertise on moderated panels.  He has been quoted in publications including the Wall Street Journal, KM World, Red Herring, Computer World, and Intelligent Enterprise, and has appeared as an industry expert on outlets such as CNBC.
Barry received a B.S. from the State University of New York at Binghamton and an M.B.A from the University of Notre Dame.   He is an active member of both AIIM and ARMA.
About eDJ Group, Inc.
eDJ Group offers unbiased information and pragmatic advice, based on years of experience and proven industry best practices. Whether researching a technology or service solution, conducting an eDiscovery Bootcamp or finding the right expertise to answer your specific questions, eDJ Group is the source for all eDiscovery professionals. For more information, go to www.edjgroupinc.com