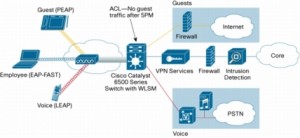 Craig Huitema of Cisco has an interesting viewpoint on the future of technology where the key elements include network virtualization and network switches. Cisco has put all efforts on their product and service updates plus enhancements particularly with its Catalyst network switches and Nexus.
Huitema said business enterprises are faced with the challenge of upgrading their network bandwidth due to increasing demands from consumers. This shift in technology upgrade includes the addition of new application tools that will allow consumers to access data from smartphones, tablet PCs and other available access tools. There is also the need to expand business data storage system away from the traditional on-site PC to a hosted server. Business enterprises also need to consider that consumers now use larger and more complex systems in creating, updating and accessing their personal and business information. This is as business and personal networking becomes streamlined in a single platform where huge audio and video files are continuously being utilized.
The bigger challenge that business enterprises need to address is the fact that these demands require faster network connection and speedy network virtualization to be able to integrate various linkages. To address these challenges, Cisco has put tremendous efforts to enhance and improve their Catalyst network switches that are now able to accommodate data network virtualization from 10 Gigabit to 40 Gigabit or 100 Gigabit when the need for it arises.
Huitema also projected that by 2014 more than 50% of personal and business computing workloads will be virtualized and cloud-based. He added that global network traffic will increase 12 times higher or as much as 1.6 zettabytes per year by 2015. This figure can be translated to 4 days of business class network usage for each person on Earth.
Huitema's candid analysis was that business enterprises will continue to be faced with increasing demands from all stakeholders from customers, staff, consultants and other business players to make more applications available and accessible for them. This should allow them easy and quick access to data via a speedy internet support from their tablets, smartphones and other new developed devices that are available.