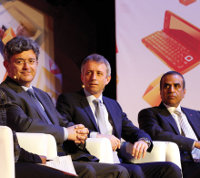 Mobile operator execs today said the industry needs to change user perceptions and the way mobile content is paid for after giving too much away in the past.
"We have to come to terms with the reality that we may have spoiled consumers by giving things away too fast. And that's not an easy thing to come back from," said Telefonica Latin America chairman and CEO Santiago Fernández Valbuena in Tuesday's keynote. Bharti Airtel chairman and MD Sunil Mittal noted that this practice has led to operators being viewed as the "bad gatekeepers" when services don't meet expectations.
"The fact is that nobody really sees it from the other way – that YouTube is consuming massive amounts of bandwidth on the network. And somebody has got to pay for that. If Google, Facebook and others are not going to pay for it, it will be transferred entirely onto customers," Mittal said.
VimpelCom CEO Jo Lunder said consumers need to be re-educated about the cost of services. "Now the challenge is really to make them understand that if you want higher quality [or] higher speed, you pay more but you're going to get it," he said. He added that tariff plans will change to more accurately reflect resources used by addressing speeds and volumes.
But over-the-top (OTT) players also need to play a role, according to Mittal. "If we have to build the highways, there has got to be a tax on highways. You cannot have automobiles running on these highways which are paying nothing," he said.
One approach could be to impose interconnect charges on OTT services to allow operators to make pricing more reasonable and fund spectrum and network investment. "We need to open up a debate for the right model," Mittal added.