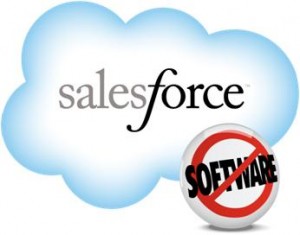 During his speech this morning at Cloudforce in San Francisco, Salesforce.com CEO and chairman Marc Benioff stated that the social revolution has created a social divide.
"The reason why the social revolution is different is because it's bleeding into our society," Benioff said, noting how sites like Twitter and Facebook played a significant role last year during the Arab Spring events and.
But Salesforce is trying to expand the social enterprise by making nearly every business department more social. One example is Rypple, a new software for human-resources management introduced today which will challenge Oracle and SAP in the market for applications that help businesses run their operations. Rypple was acquired in December and is seen as an alternative to applications built by SuccessFactors which was bought by SAP for $3.4 billion and PeopleSoft which was bought by Oracle.
Rypple is generally available now, with pricing starting at US$5 per user per month. A Phenomenal edition, which adds in an employee goals feature, costs $9 per user per month.
Salesforce also released Site.com, an update to its website-building tools that was sold under the name Siteforce. Site.com helps marketing departments build Web campaigns by giving them the flexibility to design and publish websites, social pages, and mobile pages.
The new site-building tools are easy enough for marketing departments and other end users to adopt without help from IT.  Site.com has drag-and-drop forms that bind to data held within the vendor's underlying Force.com platform. In a demonstration, Salesforce.com showed how a user could quickly create a website that showed current job listings as well as allow visitors to submit applications.
Mike Rosenbaum, senior vice president of AppExchange and Force.com operations said:
"Our customers have told us that the frustrating part of the Web development process is waiting for the various people involved in the process to move data. Now that friction is gone, yet developers still have the same range of very powerful mechanism to control a website's look and feel"
Site.com is currently available for $1,500 per site per month, plus $125 per month per publisher user and $20 per month for each contributor user. Salesforce.com is running a pricing promotion through April that offers two publisher licenses, two contributor licenses and one site for $825 per month.