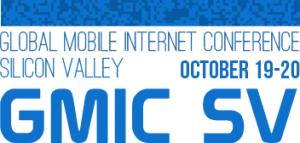 Save the date! Great Wall Club is organizing the Global Mobile Internet Conference Silicon Valley (GMIC SV) this October 19-20.
The Global Mobile Internet Conference is Asia's most influential mobile internet conference. For the first time ever, the conference is coming to Silicon Valley.
The event is themed "Connecting Global Innovators" and will gather leaders from some of the world's most prominent emerging epicenters of mobile innovation to discuss the shifts, challenges and opportunities in growing markets. Check the agenda for more details.
Join CLOUDTIMES, the Great Wall Club, and 5,000 entrepreneurs, executives, investors, and developers from Silicon Valley and around the world this October in San Jose, CA.
GMIC – SV also features two global competitions!
Mobile app developers from around the world are also encouraged to submit their apps for the global appAttack competition. By applying, you will earn a Free Developer pass to the Global Mobile Internet Conference Silicon Valley. Apps placing a spot in the appAttack 100 will be given a free booth at the GMIC SV.
If your app is:
Fresh and innovative
Less than one year old
Primed to be a global sensation
G-Startup SV is the platform for the most innovative mobile internet startups. Prior to the conference, 12 startups will be selected to participate in the G-Startup Competition, giving them the opportunity to pitch their startup to a panel of judges comprised of influential venture capitalists, angel investors, and industry leaders from around the world. In addition to this, one Wildcard startup will be chosen from the Startup Exhibition booth gallery, where 30 startups will showcase their products.
Deadlines subject to change so apply for G-Startup today!