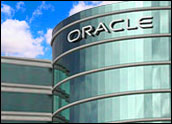 Larry Ellison, Chief Executive Officer ofOracle, recently announced the company's new offering, a highly sophisticated server with a lot of memory. Oracle also announced an updated database application to compete with its rival SAP, as well as cloud services like database, software, applications, software, and computing power which will be leased to cloud computing customers. With this new move, Oracle expects to battle it out with Workday, Salesforce.com and SAP in the field of cloud computing.
With Oracle's newly revamped 12c database, customers will be able to take advantage of the benefits of the clouds. Its X3 server can hold up to 4 terabytes DRAM and 22 terabytes of flash memory. Oracle will soon be serving the needs of the 3 tiers of the cloud computing with its computer, middleware, and database systems. The 12c database is expected to be available early next year.
Oracle hopes to reverse its underperformance with its decision to offer cloud computing services. With their recent 2.3% decline in sales for their 1st quarter fiscal performance due to the drop in hardware sales, it is expected that the company will soon recover when it starts rolling out its new cloud service offerings.
In  another development, Safra Catz, Oracle's Chief Financial Officer, told investors that its competitors, Salesforce.com and Amazon.com, don't offer every needed component for cloud computing while Oracle can now serve everything the customers need as they move to the clouds.  Although there is no longer a requirement to acquire more companies, the company is still open for any M&A acquisitions.
Although Oracle didn't initially adopt cloud computing, it is now offering an all-in-one cloud computing package which includes hardware infrastructure, software, databases, and operating systems.