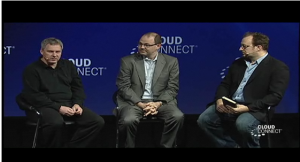 Cloud Connect kicked off this morning with special keynote guests and more than 3,000 registered attendees. The keynotes are streaming live on Cloud Connect's online tv : http://tv.cloudconnectevent.com/.
The Cloud Connect conference is designed to inform cloud customers and operators about the latest cloud computing innovations and to showcase the latest cloud technologies and platforms as well as identify opportunities in the cloud.
Today's speakers include executives from Amazon.com, Cisco Systems, Cloudscaling, Netflix, IBM, Yahoo!, DreamWorks Animation and a special panel on how private clouds shouldn't be an Island.  After the keynotes and general sessions finish, attendees will have a chance to visit the expo hall to see the 70 plus exhibitors showing off the latest cloud offerings. Attendees will be meeting with companies such as IBM, Intel, Microsoft, VMware, Cisco and others.