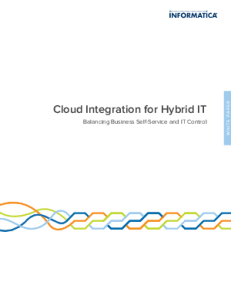 The Cloud Data Management Imperative
It's no longer a question of if your company will be adopting cloud-based solutions, but when and how many. Gartner predicts worldwide software as a service (SaaS) application revenue will reach $22.1 billion by 2015.The industry analyst firm also predicts that by the end of 2016, more than 50 percent of Global 1000 companies will have stored customer-sensitive data in the public cloud.
With the proliferation of cloud-based applications, platforms and infrastructure, the potential for data fragmentation and disconnected data silos has grown exponentially. While the benefits of cloud computing have been well documented – scalability, business agility, and cost are usually at the top of the list,from the outset, the push to adopt software as a service (SaaS) applications in the enterprise has come from the business. Individual business units, departments and divisions refuse to accept the timeframes and limited resources of corporate IT, at times even making cloud application purchases on credit cards. But in order to execute cross-functional business processes within these newly deployed SaaS applications (for example, integrating Opportunities in Salesforce CRM with Orders in Oracle eBusiness Suite), departmental implementations inevitably reach their limits and corporate IT support is required. However, accessing production back-office systems that contain mission-critical financial data is not something IT organizations take lightly. And if the SaaS application that requires this data access was not implemented, managed and/or even authorized by corporate IT in the first place, any integration requests are unlikely to be assigned a high priority.
Business analysts and SaaS application administrators have a need for speed, but they also have a need for proper cloud data management. Too often, departmental cloud application implementations fail to achieve the targeted ROI due to low rates of end-user adoption and an inability to achieve a single customer view across systems. Meanwhile, IT organizations must now find ways to not only deliver timely and relevant data, they must also find ways to empower the business with self-service data integration and data quality capabilities, while ensuring that compliance and governance standards are met.
The importance of the right approach to cloud data management has emerged as both a business and IT imperative. Historically recognized as one of the top barriers to cloud adoption, if properly managed and maintained, data integration and data quality can actually become critical enablers of cloud computing success.
This paper will introduce a cloud data management reference architecture based on the Lean Management principles and outline the key capabilities that are available with Informatica Cloud.