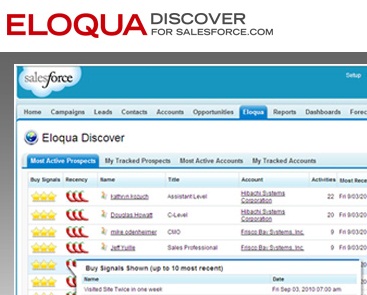 Eloqua announced today via Marketwire the availability of Eloqua Discover for Salesforce.com with Salesforce Chatter integration on AppExchange 2. The Salesforce Chatter integration within Eloqua Discover for Salesforce.com provides sales teams the ability to easily and quickly track prospect activities while engaging in real-time communication through feeds.
Eloqua Discover for Salesforce.com is designed to help sales teams identify, prioritize, track, and convert the most active and interested prospects and accounts. The application interprets a prospect's unique interests and then enables the sales team to identify which prospects are most likely to make purchases based on these interests. With the application's built-in "Track" functionality, users have the option to use Chatter to track all of their key prospects, giving them updates on significant actions such as form submissions, e-mail click-throughs, and website visits directly into their main Chatter feed. This additional real-time prospect insight allows sales to target the right prospect at the right time.
"Tools that easily reveal a prospect's propensity to buy puts the sales team ahead of competitors," said Alex Shootman, chief revenue officer, Eloqua. "Eloqua Discover for Salesforce.com with Chatter arms our customers with a deep understanding of a prospect's engagement levels, helping them close deals and improve revenue performance." "Sales teams are leveraging social media channels more than ever to gather insight on prospects in real-time," said Kendall Collins, chief marketing officer, salesforce.com. "The Chatter integration within Eloqua Discover for Salesforce.com is an example of how sales can take advantage of this social channel to gain relevant, timely prospect information." Eloqua is a platinum sponsor of Dreamforce, the cloud computing event of the year, at Moscone Convention Center in San Francisco December 6-9, 2010. Stop by the Eloqua booth 501 for a demo and further information.
Eloqua helps clients dramatically accelerate revenue growth through Revenue Performance Management. Eloqua provides powerful business insight to inform marketing and sales decisions today that drive revenue growth tomorrow. The company's mission is to make its customers the fastest growing companies on earth. Thousands of users rely on the power of Eloqua to execute, automate, and measure programs that accelerate revenue growth. Eloqua's customers include Adobe, AON, Dow Jones, ADP, Fidelity, Polycom, and National Instruments. The company is headquartered in Vienna, Virginia, with offices in Toronto, London, Singapore and throughout North America. For more information, visit www.eloqua.com, subscribe to the It's All About Revenue blog.
Platform and AppExchange 2Force.com is the only proven enterprise platform for building and running business applications in the cloud. The Force.com platform powers the Salesforce CRM (http://www.salesforce.com/) applications, more than 1000 ISV partner applications like those from CA Technologies, FinancialForce.com and Fujitsu, and 185,000 custom applications used by salesforce.com's 87,200 customers such as Japan Post, Kaiser Permanente, KONE and Sprint Nextel. Force.com also enables developers to make any enterprise app social by leveraging the social collaboration components including profiles, status updates, and real-time feeds available with Chatter.
Applications built on the Force.com platform can be easily distributed to the entire cloud computing community through the salesforce.com AppExchange 2 marketplace http://www.salesforce.com/appexchange/, now featuring the ChatterExchange.