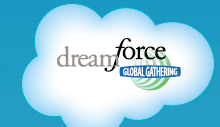 Dreamforce is just one week away! It surely looks like it will be the industry's largest cloud computing event of the year with over twenty thousand people expected to be at the Moscone Center from December 6-9th.
So what's new and exciting about this year's event?
Party Party Party!
Did we mention the numerous parties? To list a few big ones:
Monday, December 6, from 8-2 pm at the Harlot Lounge: 3D Party from Insideview, Register here.
Tuesday, December 7, from 8-10 pm at Moscone: Global Gala featuring Stevie Wonder
Wednesday, December 8, from 7-9 pm at Temple Nightclub: partner-only reception followed by the annual Cloud Crawl party.
Wednesday, December 08, at 7 pm at the Metreon: Mix with marketers party, Register here.
Wednesday, December 8,  from 6:30 – 9:30 pm at San Francisco Museum of Modern Art: Marketing Cloud party, Register here.
Wednesday, December 8,  from 8:30 – 2:00 am at The Old San Francisco Mint: Appirio after party, Register here.
But lets get back to the more serious stuff:
Cloudstock: The Woodstock for Cloud Developers at Dreamforce 2010
This open, free meetup style, is an entirely new event designed for one purpose: To bring the top cloud developers and the top cloud technologies  together under one roof, to learn from each other, collaborate, innovate, and drive the future of cloud computing.  The event will feature sessions, demo stations, socializing, and a hackathon, all delivered in a hip, developer friendly context.
Chatter Available on the Dreamforce App
Salesforce added Chatter to the Dreamforce app to help attendees better connect with each other, give input to session leaders, ask questions to peers, plan meetups, find out who's attending certain sessions, which partners you need to meet and build excitement around the event!
Very Special Guests and Speakers
Special guest President Bill Clinton, Founder of the William J. Clinton Foundation and 42nd President of the United States, is expected to speak at the keynote where he will talk about the William J. Clinton Foundation who's  mission is to strengthen the capacity of people in the United States and throughout the world to meet the challenges of global interdependence. More info on keynote speakers
Stevie Wonder will be the featured guest at the global gala. The singer has 30+ top ten hits and 22 Grammy Awards!