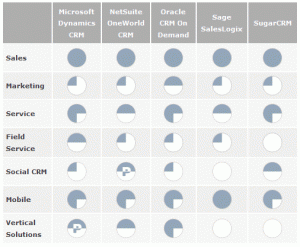 Salesforce.com is the recognized 800-pound gorilla in cloud CRM software. However, while they may own "CRM" on the stock exchange, they do not own the market. Salesforce's tool is fairly intuitive with deep Sales Force Automation (SFA) functionality. It should definitely make your shortlist, but what other companies should you be looking at? Below are five alternative cloud CRM systems that are worth adding to your shortlist of vendors.
1. Microsoft Dynamics CRM
With their latest release, Dynamics CRM 2011, Microsoft represents some stiff competition for Salesforce.com. Microsoft Dynamics CRM is built on the .NET platform, making it ideal for companies that already run a Microsoft-based office. The system has a familiar, Outlook-like user interface, and with Microsoft's extensive network of ISV's and resellers, buyers have access to customized and vertical industry solutions to suit their specific needs.
2. NetSuite OneWorld CRM
This legacy ERP player has developed a CRM system with the global organization in mind. With an unlimited number of users, modules, apps and storage, organizations can easily scale this system to meet their needs. NetSuite also now offers Social CRM capabilities through their partnership with Yammer. This development adds an internal collaboration to NetSuite's existing offering.
3. Oracle CRM On Demand
Oracle entered the CRM arena with the purchase of Siebel's CRM On Demand product and has since built out capabilities to create a strong cloud solution. Oracle offers vertical solutions specific to your organization and also has built-in integration with existing Oracle back-office products. Oracle recently acquired marketing automation company Market2Lead, adding that strength to its stack. While most CRM systems traditionally fall short in this area, Oracle has shown its intention to set the standard for its competitors.
4. Sage SalesLogix
SalesLogix is Sage's premium CRM offering. Like many CRM's, it was originally realeased as an SFA solution, but has been built out into a comprehensive CRM product with 6 million customers worldwide. SalesLogix has strong features in sales and customer service, but I really like their mobile capability. It can be accessed from any smart phone platform, and, best of all, it's free. This is a great solution for companies with a remote salesforce that requires instant access to contacts, accounts, and opportunities while on the go.
5. Sugar CRM
For companies that require an extremely tailored solution, SugarCRM is worth looking into. As the most popular open source cloud CRM solution on the market, it offers a basic CRM platform that organizations can then build upon to create a highly customized solution for their business. SugarCRM also offers a unique and intuitive wizard for helping new users get familiar with the system. It functions much like a CRM "Clippy", offering tips and instructions as new users navigate the system.
Written by guest author Lauren Carlson.

For a more in-depth review of each of these systems, you can visit Software Advice's blog on

Salesforce alternatives

.