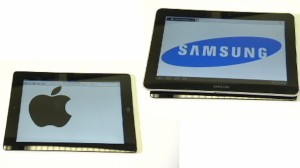 With the release of iPad mini and iPhone 5, Apple has caught up with Samsung during the last quarter of 2012. However, Samsung still retains the top 1 spot with 21.2% share on smart connected device shipments. Apple, on the other hand, is a close second with 20.3%. Total revenues were about $168 billion or 378 million units. Total units shipped for 2012 is estimated to be worth $576.9 billion or about 1 billion units. These figures amount to a 29.1% increase from the 2011 figures.
In terms of revenues, Apple still emerged as number one with 30.7% of total revenues for the 4th quarter 2012 while Samsung got 20.4%. In terms of the tablet market, Apple also retains the lead. The iPad still leads in this department. IDC expects iPad to surpass notebook and desktop PCs for the next 2 years. In fact, IDC believes that it will surpass desktop PC this year. However, IDC also expects portable PCs to fall behind the tablet shipments next year.
Furthermore, IDC believes that shipments of smart connected device worldwide will reach 2.2 billion units by 2017. Revenues are expected to be at least $810 billion. Smart connected devices include smartphones, tablets, and notebook and desktop PCs.