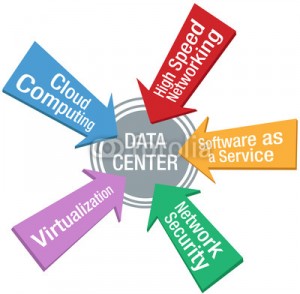 Most experts believe that the data center as we know today will undergo major changes over the next decade. Data Center Infrastructure Management (DCIM) will play a crucial role in data centers, while the way in which data centers are powered going to change altogether. This predicts Emerson Network Power in the report "Data Center 2025: Exploring the Possibilities."
Emerson Network Power bases its predictions for the coming years on a survey of more than 800 data center professionals from around the world. The experts expect that data centers will be driven by a mix of various renewable energy sources in the future. The projections make sense when you consider that innovation has always been the driving motor of IT.
While it is impossible to predict which disruptive technologies will emerge in the next ten years or so, most participants believe that they will come and help address some of the key issues faced by data center industry today, especially with regard to a better use cloud computing as a significant increase in computing power and storage component.
Solar energy will play a leading role. The share of solar energy to power data centers in 2025 is expected to be as large as the combined share of energy from nuclear power, natural gas and wind turbines. Large-scale data centers will be powered by generated energy.
According to the participants, in 2025 almost 25 percent of its energy to feed the data center will be solar, which now accounts for about one percent of the energy supply of a data center. In 11 years, solar, wind, fuel cells, geothermal and tidal renewable energy should represent half the energy supplied to the data center, with fuel cells accounting for about 11 percent. This reliance on renewable energy can be optimistic and indicates that managers are imagining some pretty major technical advances that will happen in the renewable space.
Almost three quarters of respondents believe that at least 60 percent of computing capacity will be cloud-based by 2025. Furthermore, 58 percent of managers expect data centers will be smaller, 30 percent anticipate they will be half the size of today's data centers, while 10 percent believe it will be one-tenth the current size.
According to the participants, data centers in 2025 will be much more automated. All devices have automatic identification labels, allowing data centers are operated with minimal human intervention. Therefore, improvements in the management of the data center may become the "silver bullet" of the industry, finally allowing a proactive response to the challenges of availability, scalability and efficiency.
Apparently the DCIM vendors have been effective at getting to sell this idea. The report says twenty-nine percent of experts anticipate comprehensive visibility across all systems and layers, while 43 percent expect data centers to be self-healing and self-optimizing. It would indicate 72 percent of the experts believe some level of DCIM will be deployed in 2025—significantly higher than most current estimates of DCIM adoption.
The report also discusses the potential to improve efficiency, such as cooling at the chip level, improving the efficiency of servers, higher temperatures in data centers and direct supply of energy.