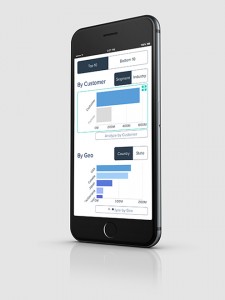 In many popular consumer applications a user can take immediate action if he has obtained important information from large amounts of data. For business applications, it appears that, directly taking action in response to a data analysis not so easy. This often occurs because the analysis may be not coming from relevant data sources or because it directly not linked to the tasks. The result is sluggish business decisions at the expense of the operating results.
Salesforce.com has set the goal of providing businesses with a more user-friendly analysis tools for the reason mentioned above. Last week, the leader of the CRM service provider has unveiled a series of apps tailored to specific activities or roles. Among them is the introduction of Sales Wave Analytics, a tool for business, which will be the first to be delivered.
Earlier this year, Salesforce.com had already made a series of updates for its mobile platform Wave Analytics Cloud, and last month the company had added a new tool focused on big data. This time, the latest round of Wave Analytics Apps applications is intended to extend the cloud analytics capabilities by providing the prepackaged templates that can meet specific needs according to use, with the ability to provide a meaning data appropriate to the context.
The applications instantly integrate CRM data in appropriate role models to accelerate deployment. They will also highlight the historical trends and making full year comparative from any terminal. Because Wave Analytics Apps applications are built natively on Salesforce1 platform, predefined data flows will not only postpone automatically, but also to update all parameters associated with these changes in Salesforce.
Sales Analytics Wave is the first app in the series delivered by the firm. It will allow business to benefit from new forecasting management tools, sales pipeline, performance and more. Preconfigured templates included in the application will allow users to explore all Salesforce sales data. It will cover sales pipeline management and forecasting so that they can give access to quarterly results and will allow to follow team performance.
The top management of the business operations may, for example, use this tool to have a real-time analysis of sales pipeline and cross this information with the sales performance of products directly from the mobile phone to determine if these forecasts should be revised or not.
The Sales Wave Historical Analysis function allows sales managers themselves to create the database in no time from any device with an analysis of historical data. As a result they no longer have to wait for the results of business analysts.
The Wave platform is vertically integrated with Salesforce's cloud analysis platform. In addition, the data does not need to be sorted for analysis, because the Wave platform includes a schema-free architecture. This allows all employees to intuitively explore full datasets and display the results in dashboards and graphs.
The tool will be available on iOS for iPhone, iPad and even Apple Watch. Additional languages ​​and other compatible devices will be added to the list later.