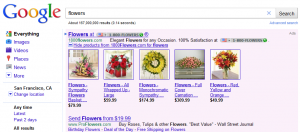 On Thursday, Google introduced a new type of ad to all advertisers, called Product Listing Ads, which includes a small thumbnail image of the product directly next to the Adwords listing. The Adwords listing can already be beefed up by providing prices, product ratings, and more, but this final addition makes Google's search results look like a small online store.
One year ago, Google launched an initial beta of Product Listing Ads which gave about 800 online merchants, including Campmor.com and Diapers.com, the opportunity to include product images in their Adwords sponsored listings in Google search results. Advertisers can pay only if the person buys the product, not just for a click. And instead of bidding on many different keywords using AdWords, Google chooses the searches for which it shows their ad.
According to Google "during the beta, advertisers listed hundreds of millions of products and we found that people are twice as likely to click on a Product Listing Ad as they are to click on a standard text ad in the same location."
This new ad product makes the most sense for e-commerce sites and correspond with Google's increasing push into comparison shopping on the search engine just in time for holiday shopping.