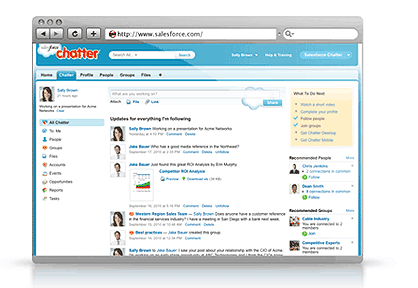 Silverpop®, provider of a scalable, integrated email marketing and marketing automation platform, announced its Engage App is now available on salesforce.com's ChatterExchange, a category of salesforce.com's AppExchange. With Silverpop Engage updated to include Salesforce Chatter functionality, Silverpop customers can automatically trigger numerous behavioral events to Chatter, salesforce.com's real-time enterprise collaboration app, providing instant updates that are vital to the sales process.
"Chatter delivers the next evolution in enterprise collaboration and provides salesforce.com partners, like Silverpop, the ability to offer customers new value and efficiencies through the power of real-time communication," said Kendall Collins, chief marketing officer, salesforce.com. "Companies can easily get started using Chatter and Silverpop Engage to reduce the barriers and improve communication and sales."
Silverpop Engage users can now automatically generate Chatter posts when a prospect expresses interest by clicking to download a file, submitting a Web form, reaching a pre-determined lead score, or entering a lead-nurturing program.  By sharing these events on Chatter, Salesforce users have a new arsenal of relevant information, enabling quicker responses and deeper collaboration between sales and marketing team members.
"With the rise of social networking sites like Facebook and Twitter, people are accustomed to receiving real-time updates from friends and family, so it's not surprising that they desire similar immediacy when reviewing customer and prospect activity and levels of interest," said Will Schnabel, vice president of business development at Silverpop.  "Silverpop understands how important it is to deliver the right message to the right person at the right time, and our Chatter integration takes this concept to the next level."
Silverpop will be at Dreamforce 2010 (booth 813), the cloud computing event of the year, at Moscone Convention Center in San Francisco December 6 – 9, 2010. Silverpop Engage is immediately available for deployment on AppExchange 2 at http://www.salesforce.com/appexchange/.
About Silverpop
Silverpop is the only marketing technology provider that offers a powerful marketing automation solution built atop a scalable email marketing platform. The company has more than a decade of experience empowering marketers to deliver highly relevant communications that efficiently drive revenue while also building brand loyalty. Companies rely on the Silverpop Engage platform to create and manage sophisticated multichannel marketing campaigns that nurture customer and prospect relationships from interest to conversion and beyond. Silverpop's industry-leading thought capital, strategic counsel and customer service, combined with an extensive ecosystem of world class partners, allow its customers to quickly and cost-effectively automate even the most complex campaigns—improving marketing results and increasing ROI. With a presence in the United States, Europe and Australia, Silverpop is trusted by leading brands around the globe.