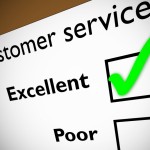 In the past, customer service has been associated with call centers where company representatives had to access different data bases to gather required information on a customer or prospect, to be able to answer the inquiry or resolve the issue at hand.  This process was very time consuming and knowledge deficient. To efficiently address customer needs, and achieve customer satisfaction, businesses are now relying on cloud computing CRM in order to increase the efficiency of customer service.
With cloud computing CRM systems, organizations are centralizing their data information on customers and prospects, which minimize the time to respond to a customer inquiry, and in turn improve customer satisfaction and customer service departments' costs.
Cloud computing applications offer now organizations the capabilities to develop their own  customer self-service portal to empower the business with robust functionality and CRM tools allowing customers to access to their own service and support requests.  Customers can create, access and track logged cases, upload relevant information, post new ideas and feedback on product and services, as well as search the knowledgebase to answer their own requests, all in real time and from any internet connection. The impact of self-service portals supported by cloud computing services is a reduced number of inbound support calls, increased customer satisfaction, and improved efficiency.
Another facet of the cloud computing for customer service, is helping the organization service their customers through social networking applications, that means it's easy to connect your service application with web communities like Twitter and Facebook. Conversation about the company, products, and services are now centralized in one system. This functionality helps organizations connect in real time with customers in social communities, create cases, push knowledge, gather feedback and circle it back to production and development for product or service improvement.
Cloud computing applications for customer service are essential to the success of any organization. Its key benefits are customer satisfaction, customer loyalty, and reduced costs.