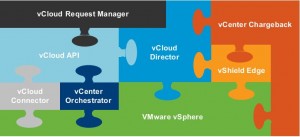 VMware is scheduled to release in March 2011 the free vCloud Connector a plug-in that will allow organizations to move their virtual machines from internal systems to hosted services. The vCloud Connector will be a plug-in available for customers using the vSphere Software, The new software facilitates the extension of customers' data centers into the cloud. With vCloud Connector, any function an administrator can apply to the internal virtual machine can now be performed on the external cloud. Organizations need not have a private cloud running to be able to manage and transfer VMs between vSphere infrastructure and an external vCloud Service, vCloud Connector uses the vCloud API to allow monitoring vClouds and managing transfers between vSphere and any vCloud. vCloud Connector works regardless if the vCloud Director resides inside the datacenter. Limitations:
Changes to physical infrastructure cannot be performed on the external cloud.
Live migration is not yet available, Transferring running VMs software is still in the works. At this point, Virtual machines will have to be shut down and restarted in case they have to be moved.
The connector cannot be used unless the user has the vSphere 4 or vSphere 4.1 versions.
VMware relies on external serivce providers, vCloud software of VMware has certified the following 3 service providers, Verizon, BlueLock and Colt, under the vCloud Datacenter Services program. (Verizon offers cloud services globally, BlueLock US only , and Colt Europe only)