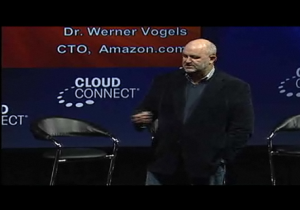 On Tuesday, during his Cloud Connect keynote, Werner Vogels, the Vice President and CTO of Amazon,  stressed on the fact that the cloud computing department of Amazon.com has become an ecosystem, and has come a long way from the simple computing cloud it started out to be.
"The cloud's ecosystem is what defines the cloud, rather than the infrastructure services underneath them," said Werner Vogels.
Vogel added that the traditional model needs to be forgotten and the cloud needs to be a collection of various services from various providers. A cloud ecosystem must require little or no capital investment, reduce expenses and offer unlimited capacity, all while service providers manage, update and patch the environment with little enterprise intervention needed.
Whether targeting enterprise or startups, a successful cloud play requires an ecosystem of partners and collaboration to tie services together and make an environment work, Vogels said.
"All of these components can be pulled together in a flat world where everything is a service," he said, adding that enterprises will rely heavily on systems integrators, service providers and ISVs to get up and running in the cloud.
Vogels also stated that cloud computing is eliminating the division between enterprises and startups, where cloud-based offerings can scale to accommodate either type business.
"It is still day one in cloud," … "[There is] a lot of innovation to come." Vogels said inferring that the cloud industry is only in its infancy, and that will create significant opportunity.
Links: Cloud Connect, Amazon