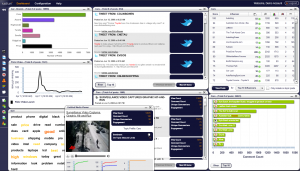 Salesforce announced it is acquiring social media monitoring platform Radian6 for $276 million in cash and $50 million in stock. The transaction is set to be completed by July 31, 2011, subject to certain terms and conditions. This acquisition represents a huge opportunity for Salesforce as it is expected to gain a leadership position in media monitoring. Companies use Radian6 to monitor, analyze and engage in social media conversation. Customers include more than half of the FORTUNE 100; Dell, GE, Pepsico, Kodak, Molson Coors, AAA, and UPS to name a few.
"With Radian6, salesforce.com is gaining the technology and market leader in social media monitoring. We see this as a huge opportunity. Not only will this acquisition accelerate our growth, it will extend the value of all of our offerings." – Mark Benioff, Chairman and CEO of Salesforce.
With Social media use on the rise, Salesforce wants to help businesses integrate the social customer into its customer relationship management methodologies.
Salesforce is growing in size through continuous acquisitions. In January of this year, the company completed the acquisition of web-based video conferencing firm Dimdim. The acquisition has been completed for $31.0 million in cash.