ScaleXtreme, Inc., a leading cloud-based systems management company, today announced new functionality for VMware vCloud Director and Amazon EC2. The new cloud provisioning and management functionality, offers users the first hybrid-cloud management product that can both provision and manage the lifecycle of machines through the cloud. Using ScaleXtremeTM, customers with VMware® vCloudTM Director-enabled services from cloud-hosting providers such as Bluelock can start managing their deployments within a few minutes. With the same new functionality, customers can also create a ScaleXtreme account to create Amazon EC2 machine instances and manage these servers without having to install local software.
In an interview with Nand Mulchandani, CEO of ScaleXtreme on Monday, Nand Mulchandani, CEO of ScaleXtreme, pointed out the fully fledged cloud platform which was designed independently of cloud vendors as a strong advantage over competitors like RightScale. We covered the announcement of the Early Access program closely.
Integrated "Hybrid Cloud Management" product manages full machine lifecycle
Unlike other products on the market that only provide the ability to provision machines, ScaleXtreme uniquely enables both provisioning of new machines across multiple clouds, and gives customers the ability to maintain those machines throughout the machines' lifecycle – including configuration management, inventory management, and task automation. In addition, cloud-hosted machines can be managed exactly as internal virtual or physical machines – all through a "single pane of glass" hosted in the cloud.
"ScaleXtreme is unique in that it manages the full lifecycle of machines wherever they might run – on an internal cloud or public cloud," said Nand Mulchandani, CEO of ScaleXtreme, "With this new functionality, customers don't have to stitch together multiple products to solve their hybrid-cloud provisioning and system management needs – they can do it all from a single location in the cloud. We're pleased to be supporting and building on VMware technology".

Gartner Research Director, Alessandro Perilli, said: "Organizations are starting to grapple with managing their existing on-premise systems combined with their virtualized systems, both in private and public clouds. The ability to effectively manage all systems in a hybrid cloud in a consistent fashion from a single tool, will be key in selecting systems management vendors."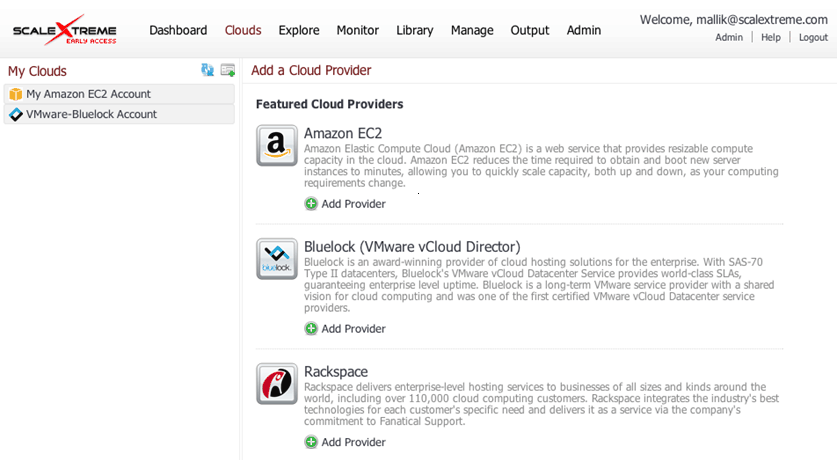 Image: The new ScaleXtreme Dashboard
The company closed an $11 million Series B on Tuesday, led by Ignition Partners with participation from previous investor, Accel Partners. The new financing will be used to accelerate the rollout of additional product capabilities, and expand marketing and sales for ScaleXtreme's innovative new way of managing hybrid clouds. Frank Artale, managing director at Ignition, will join the board that includes Ping Li from Accel and Nand Mulchandani and Balaji Srinivasa from ScaleXtreme.
About ScaleXtreme
ScaleXtreme provides the next generation of systems management products, delivered as a cloud service.
Built from the ground up to be simple, scalable, and social, ScaleXtreme's product transforms the way IT admins manage their Amazon EC2, VMware virtual machine and physical server deployments. ScaleXtreme was founded by a team with deep expertise in enterprise software and systems management, including Bladelogic and VMware, and is backed by Accel Partners and Ignition Partners.