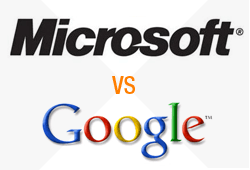 The arena continues to heat up between giant rivals, Google and Microsoft as they persist on dominating the cloud market.
The giants already reached the level of public war as they tirade a combat of words to each other. They are both seriously wooing government agencies, schools and universities and all types of businesses offering their cloud-based applications parading their superiority over each other's product apps.
Microsoft has modified their pricing to attract more small and midsized businesses (SMB) to sign up for their Microsoft Office 365 software. Google on the other hand, made public the figures of the SMBs that have signed up on their cloud services; saying that it has doubled over the last six months.
Matt Cain, a Gartner analyst said the Microsoft's offer "is a good deal, maybe even a great deal." With Google he said "So Google now faces a very aggressive Microsoft in the race for SMB business, and the search giant is trying to get a leg up on Microsoft via a press campaign."
Google and Microsoft have different positions to prove, for Google it is diversification and expansion of their 4-year old advertizing apps business to gather more revenue generating opportunities. Microsoft, however, vows to retain its profitable market in selling Office key productivity software like Word, Excel and PowerPoint.
The figures have a way to speak of the rival's position. Eric Schmidt said that they now have 40 million users that include 4 million businesses that are signed up with Google Apps. Microsoft, on the other hand announced that they have more than 50,000 businesses, universities and non-profit groups that signed up to try their cloud-based services using Office 365 after just two weeks from its release last June.
In the middle of the heat Google recently got the University of Connecticut and Yale to sign up; Microsoft on the other end bagged the American Red Cross. They also both signed up key city government agencies: Google had Los Angeles and Pittsburg, while Microsoft got San Francisco and New York City. Business sign ups include InterContinental Hotels Group for Google, and McDonald's and Starbucks for Microsoft.
Amit Singh, Vice President for Enterprise for Google said they have a strong footing in Silicon Valley with over 80 to 97% of technology users using Google Apps. Among the recent sign ups include Tripit, a startup company in San Francisco that allows customers to organize their travel schedules online.
Singh said "It turns out that generally speaking, smaller companies, which are really the life blood of the business economy; they add the most employees that have found Google Apps. If you look at how big cloud computing has gotten, we are one of the players in that." Google announced that they have about 5,000 businesses sign ups a day from the previous record of about 3,000 a day last year.
However, according to Cain of Gartner, Microsoft's Office 365 offer at $6 per month places Google on the defensive.