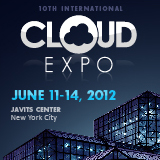 CloudTimes is proud to announce the sponsorship of the upcoming Cloud Expo in New York in June 2012.
Globally, cloud computing is on course to become $120BN market.
The surest way to get yourself and your company fully "Cloud-ready" is by attending Cloud Expo New York – being held June 11-14, 2012, at The Javits Convention Center In New York City.
Cloud Expo New York offers a vast selection of technical and strategic Breakout Sessions, General Sessions, Industry Keynotes, our signature discussion "Power Panels" and a bustling 4-day Expo floor complete with a busy Demo Theater so that delegates can you can kick the tires of solutions and offerings.
Join your Cloud peers in June at 10th International Cloud Expo in New York, co-located with the 13th Virtualization Conference & Expo. It is the largest Cloud Computing event in the world!