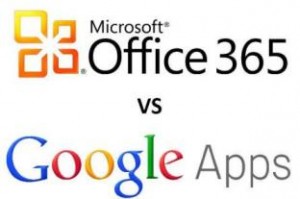 The initial catalogue for the G-Cloud CloudStore has both cloud giant names Google and Microsoft included on its primary list. This comes as no surprise, but what is curious to know is whether the battle between these two giants will have a round two in the UK region.
The initial catalogue has Google registered as Google Ireland Ltd. with its flagship products Google Apps for Business, Chrome OS, Google Message Discovery and Google Earth Builder and Google Maps API Premier listed on their product offerings.
Microsoft, on the other hand, made sure they were accredited in all four categories in the catalogue namely: PaaS, IaaS, SaaS and cloud consulting services. Their cloud products include Microsoft Consulting Services, CRM Online, Windows Azure and Office 365.
The question on whether what company will gain control over the UK cloud was initiated by the previous war between the two giants in the United States. In their war-of-words Microsoft accused Google of non-disclosure of its certification claims on government apps. Google, on the other hand, has made legal steps against the US Federal government for allegedly favoring Microsoft services.
Microsoft clearly has the upper hand in the UK because of its ongoing relationship with the government. In fact, Enterprise Agreement (EA) licensing software has been signed last year, which was supposed to be the largest global cloud deal of its kind. The £21 million agreement will run for three years with Microsoft's biggest resellers on the forefront like Phoenix Software, Softcat and Trustmarque.
Microsoft already took a key role in the initial development stage of the G-Cloud where Stuart Aston, Microsoft UK's Chief Security Advisor was chosen as one of the Co-Lead on the G-Cloud Information Assurance Workstream.  Another Microsoft cloud partner, Solidsoft also took a significant role in engineering the CloudStore framework.
One can only make a good guess where this cloud war in the UK is heading; in the meantime, here is a glimpse of what is boiling in the sidelines between Google and Microsoft. Microsoft recently gave aggressive remarks with Google's new privacy rules, which was written in the Official Microsoft Blog created by Frank Shaw, Microsoft's corporate VP.
Shaw said, "Picking an email service is an important decision, particularly if you care about your online privacy. Today's newspaper ad (and this post) focuses on email."
The contents of the post enumerated three reasons why Microsoft's email services are superior to Google's. The post stated: Google reads your mail, Google Internet searches are tied to your Google ID and that YouTube video views are also tied up to your Google ID. Microsoft is supposedly superior because it never uses email information to post ads nor link anything to the user's ID.
"Google has been trying to characterize the changes [to its privacy policy] as 'simpler,' 'easier' and 'more consistent' and … keep trying to assert that they haven't made it any harder to control what gets collected about you. That is simply not true unless you want to sign out of your mail service every time you do a search, or watch a video," Shaw said.