Cloud storage is one of the many ways that organizations are leveraging cloud services today. With public and private cloud storage available from a number of well-known providers such as Amazon, AT&T, Nirvanix, RackSpace, Google, HP and OpenStack, and cloud storage gateway technologies enabling instant integration of cloud storage into existing IT storage environments, businesses are examining and/or using cloud storage to augment existing IT infrastructure as an alternative to traditional storage.
With this in mind, let's take a look beyond the touted cost containment benefits and examine how adopters of cloud storage are actually using it to solve problems.
Cloud Storage Survey Results by TwinStrata
Data Storage Challenges
Topping the list was disaster recovery, with over 60% of respondents identifying it as a data storage challenge. For many organizations, the purchase of off-site infrastructure for disaster recovery purposes represents a budgetary challenge and is often out of reach. Second up was handling storage growth. With organizations experiencing data growth up to 50% per year and long term retention requirements growing, it is not surprising to see this identified as a top challenge. Closely related to this and tied for third is the category storage upgrade costs, incurred as a result of outgrowing and replacing storage systems on a regular basis. Also tied for third is having a path to cloud storage, implying that many businesses embrace the cloud business model and the opportunity to recognize new cost and administrative efficiencies, but have not quite figured out how to create a seamless path to cloud storage for their specific environments.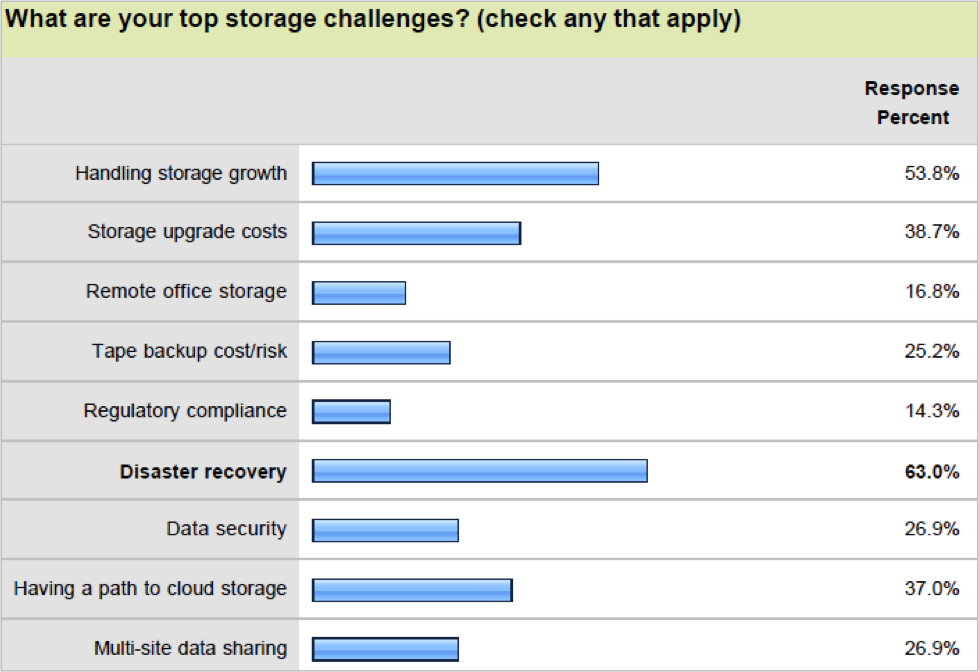 Cloud Storage Use Cases
At the top of the list of use cases was off-site backup and archival, followed very closely by disaster recovery. A reasonable deduction based on responses to the prior survey question is that users are in fact looking to the cloud to solve gaps in their backup and disaster recovery strategies. This result shows the strong appeal of using pay-as-you-go infrastructure versus dedicated infrastructure for seldom-used but business-critical functions. Next up are storage tiering and central storage for remote offices. Again, relating back to the responses to the prior survey question, storage tiering to cloud addresses both the storage growth challenge as well as the storage upgrade cost challenge by moving less critical or less frequently accessed data to the cloud, effectively extending the life and capacity of existing storage systems. Central storage for remote offices, on the other hand, addresses the administrative burden of decentralized IT environments where discrete storage systems may reside across multiple sites requiring the traditional life cycle of maintenance, support and replacement. By centralizing storage to the cloud, both storage costs and remote management costs can be reduced drastically.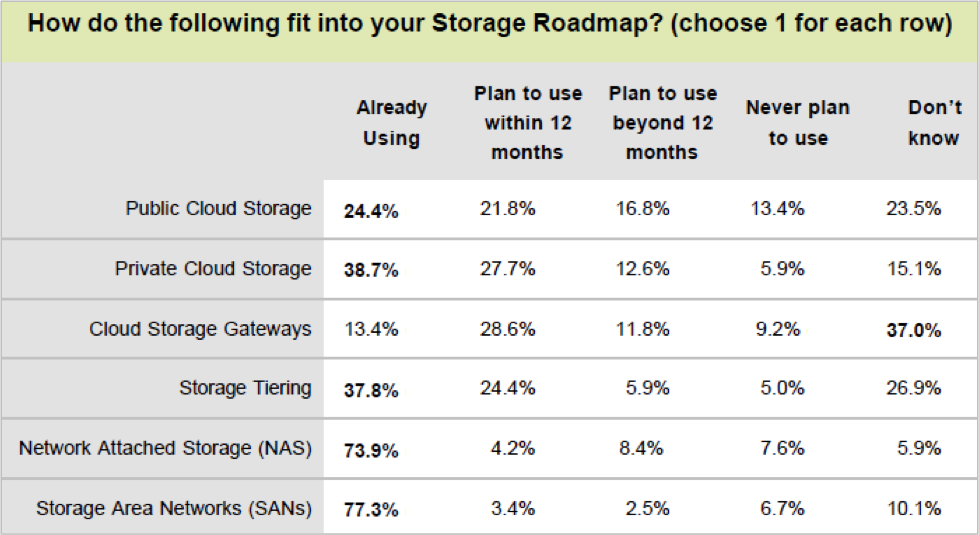 Is Cloud Storage Moving to the Mainstream?
The survey results indicate cloud storage adoption is indeed making strides. For specific use cases, such as off-site backup and disaster recovery, the resounding answer from users is that cloud is a compelling solution. For other use cases, such as primary storage, the response from users is a mixed with 41% of respondents having no interest in such a solution and 48% of respondents showing some interest. In both cases, results indicate that cloud storage is pushing closer to the mainstream and may soon become an integral part of every IT infrastructure.
Bottom line? Now is a good time to discover how your organization can benefit from cloud storage.
About TwinStrata, Inc.
TwinStrata is an innovator in enterprise-class data storage, data protection and disaster recovery/business continuity solutions using cloud storage.