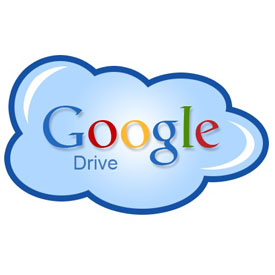 The highlight of the second day of Google I/O 2012 has focused on the cloud services of Google. First, Google has introduced the new features of Chrome, launching the browser application for iOS devices. Then it was the turn to Google Drive with two important innovations.
Google has presented two important developments regarding Google Drive service in the cloud at Google I/O 2012 conference. On the one hand, users of iOS can now enjoy Google Drive on iPhone, iPad, iPod Touch thanks to the launch of the application, and, secondly, for both Android phones and iPhone OS, Google offers the ability to create and edit documents offline.
iOS users can now enjoy Google Drive to create and/or edit documents in the cloud from iPhone or iPod Touch. This is a step forward so far as this app was available only for Android.
The main requirement to use Drive on iPhone or iPod Touch is to have the iOS version 5.0 or higher. The app can be downloaded from Apple's App Store for free.
The second major release related to Drive for both Android and for iPhone OS is the ability to work without Internet access, with the launch of offline mode.
In offline mode, Google Drive allows users to create and edit documents without connecting to the network. User creates and edits document so that the changes it has made will be automatically synchronized when reconnected.
The owner of these contents may add collaborators to the documents and make files available for viewing in offline mode without being connected to the Internet. Google says it will soon be possible to edit documents like presentations as well as spreadsheets in offline mode.
In addition, Google has thought of users who have visual disabilities, in whole or in part. Google Drive offers VoiceOver mode in order to provide greater accessibility to reading documents visually impaired Internet users.
Google Drive new features will further enhance Google's existing offering like Google Hangouts and Google Docs. In addition, Google said they are working with third party app developers like SildeRocket, HelloFax, and Lucidchart to make Drive more appealing to mass users.
Oracle, earlier this month announced that they would be jumping to the competitive cloud market.
Google Compute Engine
With App Engine, Cloud Storage and BigQuery, Google already had a rich palette of on-demand solutions for developers and creators of online applications. This week, the Mountain View company at Google I/O has opted to go one further step, by inaugurating Compute Engine, a true type Infrastructure as a Service (IaaS) platform.
After Amazon, Microsoft, and many others, Google enters the market of IaaS cloud type hosting virtual machines with Linux. Amazon offers IaaS infrastructure for both Linux and Windows workloads.
Google Compute Engine is intended to help all those long data calculation tasks that require a return higher than today's computers provide, this is achieved by creating instances of Linux-based virtual machines with up to eight processing cores.
Google said Compute Engine offers cloud hosting rent at the request of virtual machines, equipped with Ubuntu or CentOS, which will be physically housed within its own data centers. The basic formula is based on instances comprising 1 to 8 cores and virtual 3.75 GB to 30 GB of memory.
One of the biggest advantages in the cloud war between Google and Amazon is definitely price. Google services provide 50 percent more power than others.
"Compute Engine gives customers 50 percent more power for the money than with other leading cloud services," Google said in a blog posting.
At Google Compute Engine, the database instance includes a virtual heart, 3.75 GB of RAM and 420 GB of hard disk storage, for a rate of $0.145 per hour. Amazon EC2, on the other hand, the closest competitor offers a virtual heart, 3.75 GB of RAM and 410 GB of storage, at $0.165 an hour.
Upon entering the IaaS market, Google follows Microsoft, which has recently added services for Linux in the IaaS, PaaS Azure platform.
Google's core compute services will include on-demand Linux virtual machines, storage, network and tooling, whereas market leader Amazon offers compute, storage, content delivery networks, databases and identity management and templates to build cloud services.
Amazon, by far, offers more services and is the de facto standard for cloud based web hosting. Amazon Web Services host content, Web sites and businesses to millions of subscribers. Google has to really catch up with its rival on breadth and depth to remain a distant market leader.