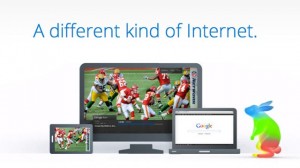 Google recently provided details of their planned Google Fiber rollout in Kansas, and while a lot of tech news sites and blogs treated the event as the equivalent of heaven itself opening its doors to sinners and believers alike, the truth is that we shouldn't be TOO excited at the blazing fast Internet and competitive TV packages just yet, as Google is still facing a few big challenges that it must hurdle before Google Fiber becomes worthy of all the hype it's getting, such as:
The Rollout Itself
In principle, Google Fiber is a godsend, as it offers blazing gigabit speeds at price points that would rival other ISP's megabit-plans. Unfortunately, Google Fiber isn't available yet, at least, not in the commercial sense. Rolling out fiber is a time-consuming, complicated process. Even residents of Kansas City, in which the technology will first debut, will have to wait for a long while.
This long wait is the reason why Google is asking interested individuals to express their interest first and pre-register. On the surface, it looks like Google is giving potential subscribers a great opportunity to reserve a slot, but in actuality, the company is going to use the number of pre-registered users in order to expedite their fiber installations, because they separate the first city into what they call "fiberhoods" made up of 250-1,500 households apiece. Google will only start their rollout once they gather enough preregistration to support the first fiberhood, which needs to be close to each other to expedite the process.
…then we get to the actual installation of the lines. It's not as fast as you can think, no matter how deep the coffers of Google run. In their own estimate, they will only be able to install around 50 percent of their planned fiberhoods for Kansas in mid 2013, and that's just one city. With the preregistrants being forced to wait 18 months to get the actual fibers installed, the actual usable internet will be further down the line.
The Installation
Most people who are on cable these days take the actual installation of the lines for granted, especially since the cables are already laid down when they subscribed to their ISP's services. But those of us who were part of the initial migration from dial up to newly-established cable services know all too well that installing fiber is not a simple process. It's not just the concept of taking a line out of the pole or the ground, and running it straight to your house; actual construction work is needed as the ground is dug up and the cables laid – imagine the water company installing a new water pipe that will connect their mains to your faucets. It doesn't occur overnight.
The Customer Service
Google is one of those companies that has a really good reputation when it comes to customer service, mainly because they rarely need to deal with the customer's problems as they have modeled their support system around AI and customer self-service, but when it comes to actual customer service capabilities – Google is lacking, as evidenced by their recent failure to sell their Nexus One smartphone direct to consumers due to poor customer service. Unlike tech support, direct selling is not conducive to business AI and self-service, so Google went in unprepared.
According to The Wall Street Journal, Google has since beefed up their phone customer service for the Google Play store and will be more prepared for direct support, but becoming an ISP is an entirely new thing. The customer support for an ISP is very unforgiving, and in a lot of cases, subscribers don't have any problems except for the quality of their ISP's tech support, since the system is set up in a way that the support people have no means of solving a lot of their users' concerns outside of filing a support ticket.
The Content
Google Fiber is not just about the ISP – it's also offering a pay TV Add On called the Fiber TV. As expected, it's chock full of cool features – including a 2 Terrabyte DVR with the ability to record up to 8 streams at once – at competitive prices. Unfortunately, it's all bells and whistles, since Fiber TV is still missing a key component: Content.
Granted that they will be offering 116 channels, but said 116 channels do not include key networks such as ESPN, AMC, Disney, TBS, TNT, HBO, and a number of other networks. It has been said that Google is trying to negotiate with the networks to get them on board, but a number of those networks also have their digital and VOD services planned or already in place, so they're likely to pass on Fiber TV unless Google can sweeten the pot or use their massive clout as leverage.