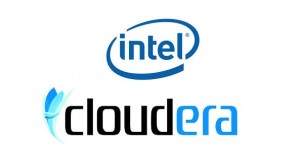 Intel has decided to abandon its own developments around Hadoop. Rather than develop itself a distribution of Java framework for big data optimized for its processors, the chipmaker now preferred to ally with one of the pure players in the sector – Cloudera and even to become its largest shareholder. Intel now sits on the Board of Directors of the Company.
Intel worked around Hadoop officially back to February 2013. The Intel Distribution for Apache Hadoop supposed to create a Hadoop performance optimized hardware solution. Intel had also accompanied its bid management tools and deployment of Hadoop cluster and others to facilitate the application configuration. Cisco, Datameer, Dell, Infosys, LucidWorks, Pentaho, Red Hat, SAP, SAS, Teradata, Tableau Software and Wipro had followed Intel in this field. However, the Intel-distribution has apparently not experienced progression from those of pure players in the sector, such as Hortonworks, MapR or Pivotal (EMC).
The agreement between Intel and Cloudera provides a transition phase in which the data analysis software of the latter will work in concert with the architecture of the data center based on the Xeon chip (x86), while the ultimate goal provides the full step customer solutions on Intel Cloudera. The two companies have agreed that the Cloudera-based Apache Hadoop Distribution CDH will be used as a preferred platform for Intel architecture. It also plans to support a number of next-generation technologies. These include Intel's HPC products, Xeon chips, flash memory, and safety.
The new partnership will see Intel commercialize and promote solutions Cloudera (Cloudera Hadoop and Cloudera Enterprise Distribution) as standard Hadoop solutions, while Cloudera to promote Intel technologies for the data center industry and sensors for the Internet of Things.
Cloudera develops software capable of processing large data sets using multiple computing resources in the data center, known as distributed computing. Cloudera's CDH is one of the most widely used Hadoop distributions. It offers different tools for the storage and analysis of data in Hadoop clusters. It contains among other software SQL databases and search engines to provide big data analytics in real time.
Cloudera has driven enterprise capabilities and more power into the Hadoop platform than any other company as evidenced by the incorporation of real-time query with its open source Cloudera Impala; real-time search support with Lucene and Solr; security with Cloudera's Apache Sentry project; integrated governance, compliance, reporting and disaster recovery — all onto the Hadoop platform.
Cloudera says Hadoop has changed the entire conversation around data. Teaming with Intel, the industry leader in data center technology innovation, presents an opportunity for Cloudera to layer Hadoop into a platform's core framework. The result is rapid performance improvements on workloads such as those extracting intelligent insight. Intel's vision for delivering open, performance optimized solutions for big data is synergistic to Cloudera's vision to help companies accelerate time to achieving success.
Intel's new platform for big data will face competition from many other Hadoop solutions of this type on the market today, including solutions offered by Microsoft, Google, Amazon and others. Last year, IDC reported that enterprises use Hadoop as the major tool for the analysis of large volumes of data generated by the web.