Private Cloud For Dummies – Our Holiday Give Away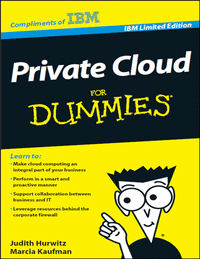 Whether public, private, or hybrid, cloud computing is becoming an increasingly integral part of many companies' business and technology strategy.
Many companies want to be able to have pools of computing resources based on a self-service model where the company owns and operates those resources. With a private cloud model, these resources are standardized and automated. Private Cloud For Dummies, IBM Limited Edition, helps put the private cloud model of computing into perspective for both business and technical leaders.
Download Free Whitepapers