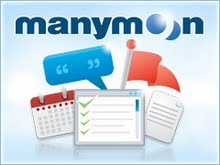 On Tuesday Salesforce.com acquired Manymoon, a company co-founded in 2008 by Amit Kulkarni and Manav Mongawhich and makes social productivity apps built on Google Apps, LinkedIn and the Google Chrome Web Store.  According to Manymoon, more than 50,000 businesses have adopted the tool.
Manymoon said in a blog post, its work activity tracking software will remain intact and be a separate business within Salesforce.com and its team will remain intact, continuing to focus on the unit's social app. Terms of the deal were not disclosed. The company plans to continue to work with Google Apps, Chrome Web Store and LinkedIn. While Manymoon said that its services will remain on its current platforms, it's highly likely that its features will also be tied into Salesforce.com properties such as Chatter.com.
But if Salesforce.com decide to  integrate Manymoon into Chatter, it will add project management. Dimdim will add conferencing to Chatter, and project management is the next logical step towards making Chatter a fully featured collaboration suite.