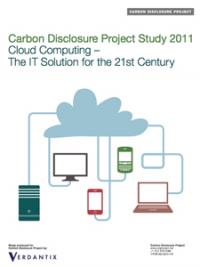 According to a new study by the Carbon Disclosure Project (CDP), large U.S. companies using cloud computing can achieve by 2020 annual energy savings of $12.3 billion and annual carbon reductions equivalent to 200 million barrels of oil,  enough to power 5.7 million cars for one year.
Cloud Computing: The IT Solution for the 21st Century was conducted by independent analyst research firm Verdantix and sponsored by AT&T.  In-depth interviews with multi-national firms were conducted  for the study. Firms were in diverse sectors and included Aviva, Boeing, Citigroup and Juniper Networks. All the participants that were selected had adopted cloud services for at least two years and the majority reported cost savings as a primary motivator, with anticipated cost reductions as high as 40 to 50 percent.
The study found that companies that adopt cloud computing can reduce their energy consumption, lower carbon emissions and decrease capital expenditure on IT resources while improving operational efficiency.
The study forecasts that cloud computing adoption will increase in companies' percentage IT spend from 10 to 69 percent by 2020.
Stuart Neumann, Senior Manager at Verdantix, said: "The study also analyzed the business impacts of transferring an essential business application—human resources— to the cloud and shows such an investment could give a payback in under one year."

John Potter, Vice President, As-a-Service Solutions, AT&T said "The study results make a powerful case for businesses to continue to explore and adopt secure and flexible cloud computing solutions."
The full cloud computing study can be downloaded at https://www.cdproject.net/en-US/WhatWeDo/Pages/Cloud-Computing.aspx.