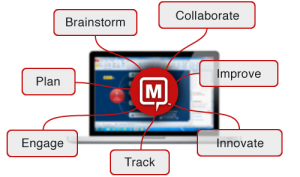 Mindjet announced today a collaborative work management software that improves how groups of people work together. The new software, called Mindjet Connect, is a cloud-based service that helps groups visualize their best ideas and plans, securely manage and share files, get teams on the same page and access information anywhere, at any time.
Mindjet Connect addresses the needs of the changing workforce; as Rob Koplowitz from Forrester indicated in his recent report that work is decentralized, moving faster and likely to keep changing at a rapid pace to keep up with the similarly frenetic pace of change in communications, business and technology.
Scott Raskin, Mindjet CEO said "Work today is different. Individuals and teams are overloaded, increasingly virtual and knee deep in unstructured information, resulting in a lack of clarity, accountability and action. Mindjet Connect goes beyond document management and file sharing, and includes a powerful way to visualize information that provides faster insight and better results."
In parallel, Mindjet announced the acquisition of Cohuman, a social task-based web service that keeps teams in sync by making information more people-centric, organized and transparent. Cohuman has social features similar to Facebook and Twitter which gives people the ability to better coordinate with colleagues on projects and tasks.
Raskin says "Where Mindjet Connect helps teams get on the same page, Cohuman helps teams stay on the same page. The combination of Cohuman and Mindjet Connect will further Mindjet's vision to help people work better, together."
The company is offering Mindjet Connect free of charge starting September 22, visit mindjet.com for more details.