Oracle was previously perceived as slow moving in terms of its readiness and transformation for the new era of the cloud. But finally, it broke the silence last Monday at the OpenWorld 2011 event when it announced its most recent and most important product release, the Oracle Big Data Appliance. This new cloud technology is strongly built on NoSQL and Hadoop, which are the key movers in huge cloud data servers.
Oracle retained its flagship database that is seriously built on a rock-solid traditional technology, which they refer to as their relational data storage. Recently, however, with the trend on moving to the cloud platform of new websites and their major customer base who clamor for transformation from relational database to global cloud level, Oracle decided to upgrade to a new level of scalability and speed. Popular websites like Facebook, Twitter and Netfix are just a few websites that have been using NoSQL to meet the demands of their users and the global market.
Oracle's key purpose in acquiring NoSQL and Hadoop is not merely for loading speed, but to allow their business and their stakeholders to gather unstructured data from anywhere across the web and to use them as new powerful sources of new business opportunities. Beyond this, Oracle will also provide a connection for its other products using the traditional Oracle relational database to do business reports and real-time analytics to combine both the structured and unstructured data statistics.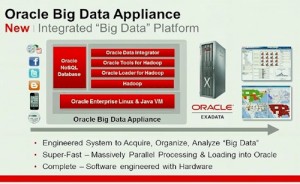 EMC, an Oracle business partner provided a real picture of how this would work using an auto insurance company as an example. Currently, this auto insurance uses software that allows data storage for their big customer base that sets the rate for each of them. The old software in reality has the majority of customers subsidizing the cost for a few bad drivers. Now, using this new software that can do business analytics the majority of customers will now be able to customize the rates that will give most of the customers some savings and the bad drivers to pay more for their insurance premiums.
Another example is based on a household's social networking graph, where it will be possible to give discounts to users who apply more parental restrictions compared to those who have a thrill-seeking behavior on the web. This may sound scary and are still on the development stage, but is not very far from reality. This may also be seen as an opportunity to teach web users to be more responsible since penalties can easily be imposed using this software.
Another frightful consequence with Oracle's Big Data Appliance is its ability to mine public data that are within the cloud. In an official Oracle announcement Andrew Mendelson, senior vice president of Oracle Server Technologies said "With the explosion of data in the past decade, including more machine-generated data and social data, companies are faced with the challenge of acquiring, organizing and analyzing this data to make better business decisions. New technologies, such as Hadoop, offer some relief, but don't provide a holistic solution for customers' Big Data needs. With today's announcement, Oracle becomes the first vendor to offer customers a complete and integrated set of products to address critical Big Data requirements, unlock efficiencies, simplify management and create data insights that maximize business value."