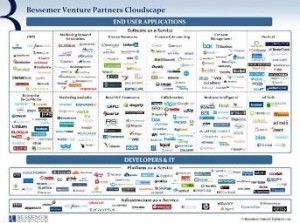 In spite of the global economic crisis cloud computing is an exception. The cloud still continues to thrive and make tremendous growth even while most of the other companies are making huge losses resulting to high unemployment rate and uncontrollable debt crisis.
Cloud computing is not just about software development; rather, it is now a target for most entrepreneurs and investors. Cloud computing is now considered the software ecosystem that encompasses hundreds and thousands of companies that changed dramatically how work and business are being done in the 21st century.
This was published in the latest Bessemer Venture Partner's map of the major cloud players, which was released on the last Bessemer Annual CEO Conference. What was so surprising was seeing so many Canadian companies who made it to the Bessemer list including TribeHR, Clio, Radian6, Shopify, Hootsuite, Unbounce and Freshbooks.
There were two speculations as to why Canada tops other companies in SaaS (software as a service) instead of Internet.
Less Funding Requirements – This was seen as the top reason why Canadian e-commerce companies are leading on SaaS. Companies like Unbounce can easily monetize their products because their products are not dependent on Internet advertisement scales. This is why only when consumer demands are up it is the only time they would need more funding for the business.
SaaS made Sales and Marketing less Complex – Traditional sales and marketing usually required IT people to translate the sales and marketing process into a very lengthy and complex process. It was a standard procedure to get the opinion of the IT department for all software purchases. Often time decisions are based on proximity and current relationship standards with providers. With cloud computing, however, that sales process had been revolutionized because now sales and marketing are based on a solid foundation of product quality and the chances of building a wider consumer base using SaaS.
Cloud computing will continue to flourish in the coming years, so it is expected to hear more success stories from IaaS, SaaS, PaaS cloud companies. According to Bessemer the annual growth rate from these companies reach more than 100%.
The public cloud is also skyrocketing such as IPO's like LinkedIn that recorded a high 126% growth rate, Cornerstone onDemand at 63% and Broadsoft at 60% annual growth increase. And as this continues to increase the first challenge for cloud companies is hiring talented and skilled people.