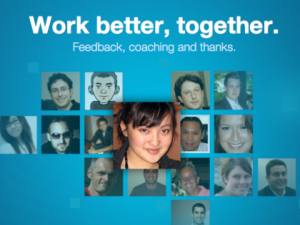 Salesforce.com announced the recent expansion of its social enterprise cloud platform with the acquisition of Rypple, a provider of a social performance management app. The financial terms of the transaction were not disclosed but the company said Rypple will be rebranded "Successforce" and integrated into the existing ecosystem of Salesforce enterprise SaaS applications.
Rypple is based in Toronto Canada and has 350 customers, including Facebook Inc. and Spotify, who use it to manage goal-setting, feedback, recognition and coaching. Salesforce sees this move as its entry into "the human capital management (HCM) market for the social enterprise." Successforce will be the flagship product of Salesforce.com's new HCM business unit, headed up by John Wookey, the company's executive VP of advanced applications.
David Stein, co-CEO and co-founder of Rypple, explains "We took the science of team performance and applied the collaborative, transparent, and real-time power of social networks to create a completely new model for managing people and the work they deliver. Salesforce.com gives us the opportunity to apply our expertise and extend our vision for Rypple with Successforce."
The deal is expected to close by April 2012, the end of Salesforce's fiscal first quarter for FY13.