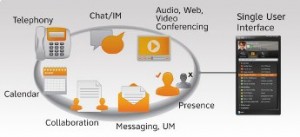 AT&T recently announced its new cloud computing solutions that will help enterprises to unify their communications systems. This is done through an entirely cloud-based platform, meaning there will be no need for an in-house software or hardware to do the task.
AT&T's unified communications (UC) will leverage any business in terms of productivity, ease of access and cost effectiveness. Although, the UC continues to pose challenges on finances and technology, the consumer's clamor has challenged AT&T to come up with this product.
AT&T hopes to maximize the cloud platform on their UC system because they want to eliminate the hassle from installation and hardware integration. The cost will also be very appealing to consumers because it will have control features that will allow users to manage expenditures and eliminate unnecessary costs.
Managing director at the analysis firm, Structure Research, Philbert Shih said, "The telco sector has cloud on its radar and bought its way in, as the CenturyLink, Verizon, Windstream and Time Warner deals over the last year clearly show. AT&T already has hosting assets, but may have chosen to partner in order to first get its feet wet with a relatively new audience and market segment.The decision to partner rather than build this capability is a testament to the difficulty of engineering an infrastructure delivery platform."
Shih also said that SoftLayer's partnership with AT&T highlights the latter's maturity in terms of hosting technology and cloud computing expertise. He said that hosting enterprises like SoftLayer is likely to surface as a stiff competitor with the giants like Amazon Web Services.
AT&T's UC Central placed together applications, tools and services like VOIP, IM or chat, email, voicemail, video conference, Web conference with the UC system, which placed more focus on mobility. AT&T utilized Cisco Hosted Collaboration Solution (HCS) as the framework for this service.
AT&T's vice president of Voice, Collaboration and Unified Communications Services, AT&T Business Solutions, Shawn Conroy said, "With AT&T Unified Communications Services, individuals have full access to all of their communications tools at the tips of their fingers. Not only can this service leverage an organization's existing investments to improve business collaboration, it also provides an easy transition from where a customer is today to where they want to be tomorrow without incurring significant capital expenses."
To this cloud movement from AT&T, Shih wondered if this is just a precursor for other cloud investments. There may be other new cloud announcements from AT&T as they launch their UC system a few days from now.