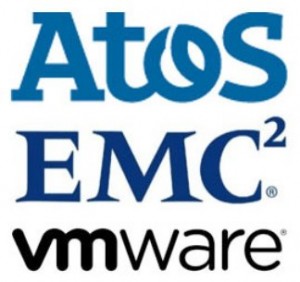 EMC, a giant data storage company in Hopkinton; VMWare, a cloud computing trendsetter and Atos, a French technology services enterprise will join forces to strategically plan the cloud computing framework in Europe. The result of the alliance will be the birth of another cloud computing company called the Canopy. Canopy is expected to operate a one-stop-shop Application Store that will provide customers with easy access and download points from anywhere around the world through Ufida and Yunano's SaaS apps. Atos and VMWare will then provide the PaaS platform and the data storage system, which will serve as a standard, configured and cloud stack system for both on-premise and off-premise deployments.
The goal of the Enterprise Application Store is to set the benchmark for business and government applications in Europe and to give the needed boost on the open cloud ecosystem. There are various negotiations being done before the scheduled launch of Canopy in April to offer the most diverse Apps in the cloud market. Products like ECM (engineering change management), PLM (product lifecycle management), enterprise email, CRM and ERP will be included in Canopy's cloud offerings.
Joe Tucci, EMC CEO said, "Cloud computing is altering forever the way in which IT (information technology) is designed and consumed across data centers, applications and end user access points. EMC looks forward to working even more closely with Atos, accelerating this shared vision and making the benefits of cloud computing a reality for enterprise customers in key targeted industries."
The headquarters for Canopy will be based in Europe where an expected 100 consultants will work, develop and design their cloud offerings.
"Atos brings complementary capabilities, including its strengths in Europe," Tucci added.
EMC, Atos and VMWare will revolutionize computing and business solutions in Europe by providing the open cloud platform that will speed up business services and solutions, plus maximize consumer benefits from cloud computing.
Canopy will offer the best cloud services from security, flexibility, scalability, cost effectiveness, reliability, innovation and other cloud solutions by integrating the strengths of the three companies.
"Today's enterprises and governments face in parallel massive pressures on IT costs, growing user expectations for agility, user-friendliness, and innovation. Cloud Computing is radically changing the world of IT by meeting these needs. The launch of Canopy and its unique set of enterprise-grade services will ensure that Atos is well positioned to play a leading role in this new and growing market. The value of today's strategic alliance is very promising for our customers as Canopy has been designed to leverage the capabilities of Atos, EMC and VMware technologies so as to offer our clients the best one-stop-shop cloud services. Canopy will in particular closely work with its private and public sector customers to guarantee that its cloud solutions and operations will provide the highest level of integrity, reliability and security," Chairman and Chief Executive Officer at Atos, Thierry Breton said.
Customers will have the flexibility to choose how they prefer their cloud computing experience or business solutions to run. They will have the platform to allow off-premise or on-premise cloud systems, integration of hybrid, private or public cloud solutions.
Chief Executive Officer of VMware Paul Maritz said, "Cloud computing represents a significant shift in how customers consume and manage IT resources, but they are asking for the benefits of the cloud on their terms, with the ability for managed services to be delivered on or off premise. We're pleased to be working with Atos and EMC to deliver cloud solutions in this fashion – simplifying and automating IT services to help customers not only reduce costs, but also transform IT into a strategic asset that yields business and competitive value."
Other than the Enterprise Application Store, SaaS and PaaS platform, Canopy will also offer private cloud and Cloud strategy & transformation Journey Design products.
Canopy will be a cutting-edge technology as a result of the strong alliance from EMC, VMWare and Atos that will globalize cloud computing in Europe improve the business marketplace and innovate customer's personal computing.